Comfy Swimsuits
Full body swimsuits are probably the most comfortable swimwear you can get. The slim silhouette with no waistband looks as good as it feels in the water.
When divers or swimmers daydream, they often imagine themselves floating weightless in water so warm and clear it creates the illusion of flight. Next time you're in a water paradise check what you're wearing. Just swim briefs, or nothing at all?
Well, flip out of it. In the real world, most experienced swimmers and divers wear some type of full body suit, even in the warmest and most benign waters.
The warm tropical water sure feels good on the skin, until you accidentally bump into a bit of fire coral, or swim through a school of tiny jellyfish.
Divers and snorkelers looking for UV protection and a defense against sea lice, jellies and other biological irritants will love these super stretchy and comfortable swimsuits.
These suits are commonly made out of a stretch material which is basically an elastic fabric with a silky finish. It is also a great active wear when you are out doing your favorite water activities, or simply seeking protection against the sun UV radiation.
They come in different styles including built-in hood, and soft bra support for women just to name a few. Suits with front zip are easier to put on and off, back zip suits have a more comfortable fit when surfing or swimming.

Useful Tips
When you enjoy swimsuits for the very first time, it helps to know some of its uses. Here are some tips about wearing and maintaining your swimsuit:
Swimsuit
A swimsuit does not have much thermal protection. Use it on its own when you are snorkeling in warm water and you just need that tiny bit of protection from floating stinging critters or the incidental contact with coral. It is lightweight but gives you just enough protection from getting cut, scraped or encountering abrasions while exploring under water.
A convenient solution is to pair a good hat with a full bodysuit to provide complete sun protection without the hassle of changing outfits before and after each dive. This is especially true on smaller, open boats where shade and changing space is at a premium.
Sun Protection
A swimsuit gives you a layer of protection against harmful elements. It can provide you with protection against the sun UV radiation as well as those poisonous jellyfish that you might encounter while snorkeling and diving.
Hoods make the Difference
A convenient solution is to pair a good hat or hood with a full body suit to provide complete sun protection without the hassle of changing outfits before and after each dive. This is especially true on smaller, open boats where shade and changing space is at a premium.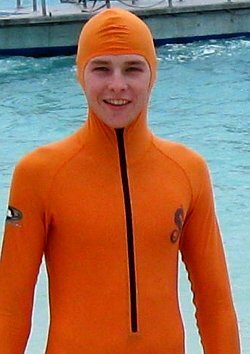 We recommend hooded swimsuits which are more versatile, give better sun protection for the neck and ears, and avoid hair tangling in your scuba mask.
Swimcaps
Some pools require you to wear a swimcap for hygiene reasons and to keep hair from clogging up their filters. Hooded suits have a swimcap build in so you can't lose it. It is more comfy and fits better.
Swimsuit as Wetsuit Liner
In the early days, divers would wear a pair of pantyhose to cut down on the struggle of donning their wetsuits. Well, we don't see people using panty hose any longer, but the concept is the same.
Now, because of the thin stretch fabric, which is a very smooth and silk material, it is easier for divers to get in and out of their wet suits fast and without any struggle, tugging and fumbling. The slick lycra construction of the swimsuit helps you peel your wetsuit off or pull it on in a hurry. Just wear a swimsuit and never again will you lose the skin of your knuckles from tugging and pulling on the legs of your wetsuit.
Some divers find that wearing a full swimsuit as a liner makes it easier to slip into a thicker wetsuit. Get a swimsuit with a thumbloop so it doesn't slide up in your wetsuit.
A swimsuit makes suiting up in a thicker wetsuit much easier. It is lightweight and dries fast, and allows you to peel off the rubber suit and still have full sun protection while on the surface. It usually has the zip on the front to avoid discomfort when wearing scuba gear on your back.
Swimsuits are non-buoyant, which means you won't have to add any lead to the weight belt to compensate for your suit. Some divers will wear a light swimsuit suit throughout the day, even if they plan on adding a thicker wetsuit during the dive. It is lightweight and dries fast. Made with overlock seams, this is also a great tropical suit for warm water snorkeling.

Swimsuit Care
The best way to keep your swimsuit clean is by rinsing it in normal water right after your swim while you wear it in the shower. Make sure you rinse all the pool chlorine or salt from the sea waters off your suit. Allow for it to dry completely before you store it.

Travel Tip
Take a fullbody swimsuit wherever you travel because it is so useful for many purposes. In your bag it takes up the space of two T-shirts.
Reader Comments
Avoid Cheap Suits
by Suzie, Brisbane, Australia
My friends and I have enjoyed quite a few full body swimsuits, diveskins, and stingersuits. They feel much better than bikinis or regular swimsuits, because they cover the whole body without annoying straps.
However, the quality varies a lot with the different brands. Stay clear of the cheap $30 suits, those that look like one big fish net stocking. On the back of one packet it stated that the suits do not fully protect from sunburn and jellyfish.
Get a suit made of a solid dense fabric, preferably in a dark colour. Hold it up against the light to see how tight the weave is. We've got some proper suits that look and feel fantastic.

My Comfy Swimsuit
by Jacques, Paris, France
Last year I bought an all in one suit for my holiday to Greece. It was great fun to swim in the sea with this suit. At night I slept in it as it kept the mosquitoes away.
My swimsuit is so comfy that I wear it not only on the beach, but also in the local indoor pool, looking cool. With no waistband it feels almost like wearing nothing.
Full body swimsuits are now being sold in our local pool shop, because these suits are chlorine resistant and have a build-in swimcap (hood) for hygiene. Can't wait to get one and jump into the pool.