Swimming Tights and Legskins
Yes. Tights and leggings you wear for swimming are a thing. They cover from your mid-waist to the ankles and resemble leggings, basically tight pants for swimming. They are an ideal choice for low and high impact activities in and out of the water. Now you can get them at more and more sports shops and department stores.
Their fabric is kind of slippery and weird, but that's because its meant to get wet and also to dry quickly. It is perfect for hot yoga, but can also be used for pilates, spinning, swimming, surfing, running or hooping. They can be worn as everyday wear or into chlorine and salt water environments.
Most legskins are made of technologically advanced Lycra-based fabrics designed to hug the body tightly and provide increased speed and decreased drag resistance in the water. Swim tights streamline your body and reduce unwanted muscle vibrations. They maximise freedom of movement with excellent stretch and recovery.
Popular in Asia
In Japan and Korea legskins are very popular for fast swimming and recreational water fun. This was helped along by the Japanese cult anime movie "Free!" where the swimmers all wear either jammers or full length tights.
Swim tights are exceptionally comfortable and fast-drying, delivering full leg coverage without weight or bulk, perfect for running, swimming, kayaking, or any waterfront activities.
When doing cross fitness activities, you move in all directions. That means you need leggings to keep you covered when you bend over, do movements like squats, or dive into the water. When raising your legs or doing lunges, you need a stretchy, breathable fabric to follow your every move and provide good moisture management.

Can guys wear leggings?
Yes, many do. Many more will start, it's just of matter how long it will take. At the Marni Men's show during the Fall 2007 Fashion Week, outfits with leggings designed solely for men were introduced.
Men's leggings, dubbed "meggings" (a portmanteau of the words "men" and "leggings") were presented as the latest fashion trend for men at spring/summer 2011 fashion runways, supposed to be styled and layered beneath shorts and preferably with large, baggy, loose or long tops such as T-shirts.
K-pop idols have been wearing male leggings under shorts as a fashion item since the 2010s. Some of our interns wear them, comfortable and casual. Their friends that have seen them like the way they look in those clothes. Today, they get no looks, stares, complaints, or laughs. "Holy smokes," you say, "it's like nobody cares." That's because they probably don't.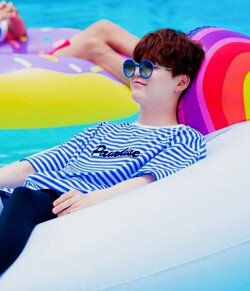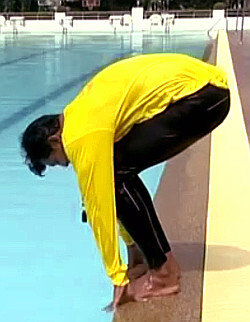 Shopping: What to look for in swim tights?
Look for swim tights that state high sun protection credentials. Other bonus features include chlorine resistance, a high-waist and nifty side pockets. If you're beach running or staying active straight from the water then swim leggings with extra features are well worth it.
Comfort is important. Ask for the softest chlorine resistant fabric to fit like a glove.
Combine your tights with a matching swim shirt to complete the look.
Comfortable, non-binding four-way stretch
Draw cord waist for a custom fit
Full-length coverage
Chlorine- and saltwater-resistant fabric
Rated UPF 50+
Easy care: machine wash, line dry
Fabric: usually about 90% Nylon and 10% elastic fiber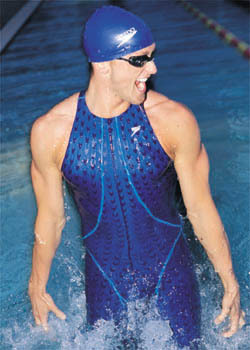 Some swim tights reach up to the shoulders. Without a waistband they can be more comfortable and streamlined.
Whether you go with leggings or a suit with some upper body coverage is a personal preference.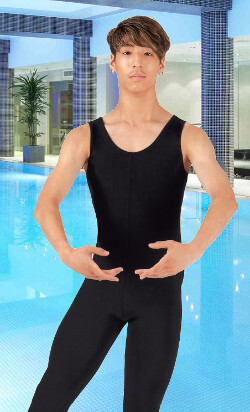 A ballet suit can double up as swimsuit. Because of the wide top opening, it can billow out with water when you swim fast. Maybe better as a comfy bathing suit.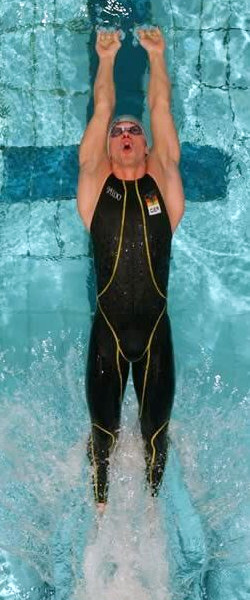 History
When men's tights were introduced to the market in many colors and patterns, the makers had great hopes of succeeding particularly in the athletics area.
Tights also had a much better fit than long underwear made from cotton. The use of synthetics for reinforcement did not occur until later. Additionally, long underwear had the negative imagine of being unsportsmanlike and "old man underwear", and since the 1970's, particularly the younger generation rejected them.
Men's tights, on the other hand, were considered "modern" and did not have a negative stigma attached to them like long underwear did.
"Men's knit tights have become a very important article whose revenue doubles each year. They are available with feet, stirrups and with Lycra. This popular article for athletes is highly appreciated for its low-maintenance." (1977)
Good sales figures were achieved with tights that were suitable for almost all types of winter sports, especially skiing. The rub marks from skiing boots, which were caused by socks and long underwear, could be avoided by wearing tights.
Unusual, though, is the use of tights for swimming. However, tights were "prescribed" during training sessions for the German national swimming team in the 1970's. The tights were supposed to cause a greater water resistance, which led to a faster build-up of muscles.
While swimmers were wearing wool tights in the 1970's for the reasons listed above, the 2000 Olympic gold medalists wore skintight, full-length bathing suits made of a new high-tech material which emanates the skin of sharks and thus decreases water resistance.
Since 2010 legskins have been banned for competition swimming by FINA, as they were seen to give an unfair advantage to swimmers who wore them and other bodysuits. Today they are used for fitness training and sun protection. Enjoy!

Reader Comments
No more itchy bathing suits
by Mark from Toulouse, France
Wear a skimpy itching bathing suit? No way?
Swim leggings? I'm totally sold.
I never wear a stupid bathing suit or baggy shorts again. They make me feel terrible and miserable about myself when I should enjoy playing in the water.
Combined with a swim shirt, my leggings are the best and most comfortable swimsuit ever. The soft fabric feels so good on my skin and dries quickly after a shower.
Also, if there's ever been a time to take a step back towards a more elegant and comfortable approach to swimwear, maybe it's now. For me, 100%. Score one for freedom!
Swimming Pool
by Ralph from Singapore
In the pool I wear my long swim tights with a swim shirt. These clothes feel much better on my skin, let me swim faster, and don't seem to restrict my movement much, but keep my muscles warm.
A drawstring is required, or the tights slip down every so often. Maybe I should get some with shoulder straps.