Shorty Swimsuits
A shorty is a lightweight swimsuit

, usually made from chlorine resistant fabric for use in swimming pools.

Think of it as a swim shirt with jammers, or jammers with a swim shirt. It stretches in all directions for added comfort and free body movements.

Quick drying shorty swimsuits are designed to be worn all day long. They feel good on the skin, can withstand heavy usage in the sea or chlorinated waters, and give you a sporty look in the pool or on the beach.

Most have front zippers, some have back zippers which looks better but is more awkward to put on. Some better suits have flatlock stitching and a built-in pocket on the arm for your keys or money.

Shorty swimsuits are easier to put on or take off than a full suit. Some have long sleeves for good sun protection, others are shorter for indoor use.
Shorty Advantages
Dries quickly
Creates a sleek silhouette in the water
More coverage than traditional swimsuits
No need for drawcord waist
Stays put when you jump around a lot.
There are more than many swimwear designs by leading brands including Speedo, Zoggs and Arena, covering all styles from jammers to briefs to long length, loose fitting watershorts and fullbody diveskins. Everyone is catered for, from competition swimmers to those who just want a functional swimsuit for the occasional dip.
Chlorine Resistance
The majority of tight fitting swimsuits are made from chlorine resistant fabrics so you can get plenty of wear out of them. There are many choices colour and design wise, from basic black swimming suits by Arena to brightly printed shorties. It doesn't matter what size, shape or style you are looking for, there will be something to suit everyone.
Variety of Styles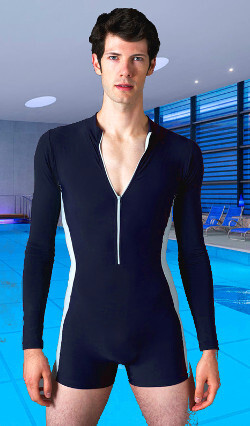 Shorty with long sleeves for good sun protection, easier to put on or take off than a full suit.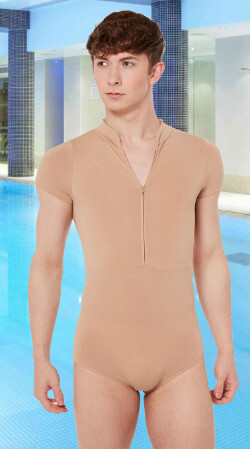 This skintone coloured swimsuit may turn a few heads.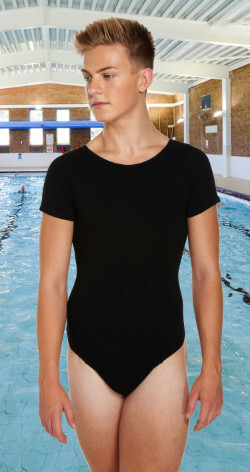 Shorty with top entry may require some agility.
The most important thing to look out for when buying swimwear is comfort and fit. For the competitive swimmer, a wide range of swimwear ensures that you will get the best fit that offers all of the comfort and durability that is needed during your training sessions.
There is a huge selection of options with bright colours, fun patterns and stylish designs or the more traditional colours and styles that will make you look and feel great while offering you the comfort that you need. Only then can you be confident that you are getting the best swimsuit available at great prices.
Reader Comment: Rowing Practice
by Tim and Andrew from Cambridge, England
We wear these shorties for rowing practice where we get splashed a fair bit. They feel good even on long rowing runs.
Afterwards, we jump into the water for a swim. We also wear these suits in the local pool, because they look cool.