Swimskins / Singlets
Swimskin or kneeskin suits are like jammers with a singlet style top. They look a bit like wrestling or rowing suits.
If you have the right body shape, singlets can look really good on you. The streamline your body and feel more comfortable without a waistband.
Kneeskins are worn by both male and female swimmers. They are made of technologically advanced lycra-based fabrics designed to hug the body tightly and provide increased speed and decreased drag resistance in the water.
The kneeskin is similar in design to the full bodyskin absent the leggings beyond the knee. It also resembles a "shortie" style wetsuit only made of drag-reducing fabric instead of neoprene and commonly features a zippered back.
The culmination of years of research at sports universities, the kneeskin delivers a high compression-to-weight ratio, delivering awesome full body compression, with a light weight finish to maximise racing efficiency. The unique design creates a second skin.
Speedo have introduced an even higher specification LZR Pulse+ fabric with a 40% increase in the fabric's durable water repellency. The fabric minimises muscle oscillation and skin vibration for the ultimate racing form within FINA rules.
After being banned for competitive swimming by FINA, these swimsuits are mainly used as fashion swimwear.
Speedo Hydrasuit
The Hydrasuit was created by Speedo for competitive swimming, but today it is just a bold fashion statement, ideal for regular swimming, or to wear on the beach. Derived from women's swimsuit designs, it is now worn by men as well.
It offers more coverage than a 2 piece, with freedom of movement and comfort. Simple styling in classic colours and the great quality you expect from Speedo make this a staple favourite.
Features and Benefits
High neck swimsuit
High leg height
Fastens at the back with a zip and offers good coverage
Made in a smooth fabric
Fabric Composition: 80% Polyamide 20% Elastane
Wrestling Singlet
A wrestling singlet (or simply singlet) is a one-piece, tight-fitting uniform, usually made of spandex, lycra, or nylon, used in amateur wrestling. It is tight fitting so as not to get grasped accidentally by one's opponent, and allows the referee to see each wrestler's body clearly when awarding points or a pin.
Apart from wrestling is also works well as a comfy swimsuit. For a more relaxed fit, you may want to order one size up.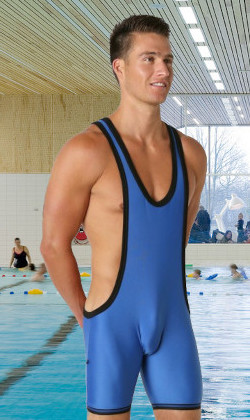 Cool design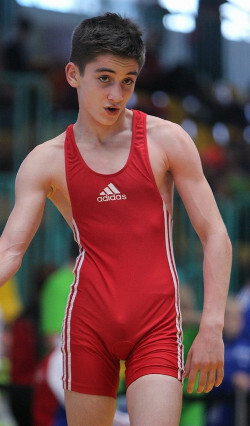 Relaxed fit bathing suit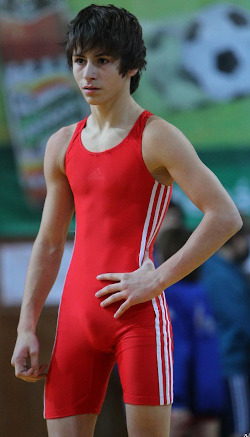 Tight fit swimsuit