Frequent Swimsuit Questions
Can I wear long swimsuits in swimming pools?
Yes, of course. You can enjoy full body swimsuits in any swimming pool because they are made from swimwear fabric and don't flap about. If public pools require a swimming cap, put the hood up. Remember to wash and rinse your swimsuit well in cool fresh water, like wearing it in the shower. Let it dry completely before putting it away.
Can I wear my swimsuit for dry activities?
Yes, swimsuits are amphibious which means they can be worn comfortably on land and in the water. Enjoy it throughout the day for sun protection without having to change when you go for a swim. It dries quickly after you had a shower to rinse out the sea salt or pool chlorine.
Should I choose a front or back zip?
Most swimsuits have front zips as these are much easier to do up without any help. If you carry scuba gear on your back this is the suit for you.
However if you go surfing you may find that a front zip will rub when you are getting on and off your board and paddling out. A back zip can be a much more suitable option for surfing although you may need some help pulling the zip up or down.
How do I measure for correct size?
If you buy a really good quality swimsuit you want to make sure you measure correctly to get the best fit.
First of all it is always best to take your chest and waist measurement and then compare it to the size chart on the listing of your supplier.
Next, measure yourself from centre front neckline through crotch to centre back neckline. Then if you measure between a small and medium for example but your other measurements are coming under small, you are best to order the medium size for the best length. So remember this when deciding on your size for your next purchase and you should get it right.
What about insects?
Swimsuits provide protection against most stinging insects on land which is ideal for hikers and cyclists. As comfy sleepwear they keep mosquitoes from sucking your blood at night.

Hoods make the difference
We recommend you get a hooded swimsuit which is more versatile and gives better sun protection for your neck and ears, avoids your hair tangling in your scuba mask.
Some pools require you to wear a swimcap for hygiene reasons and to keep hair from clogging up their filters. Hooded suits have a swimcap build in so you can't lose it. It is more comfy and fits better.
How do I put on a full body swimsuit?
Make sure your skin and the suit are both dry. This makes it a lot easier.
Open the zipper all the way to the end if possible. Insert one leg first all the way down until your foot goes through the leg opening of the suit. Now insert the other leg all the way to the leg opening again.
With both feet on the ground, hold the suit from both sides and pull it up all the way reaching up to your waist line. Adjust the bottom part until you feel comfortable with how the suit fits.
Now you slide one arm all the way through the sleeve until your hand goes through the sleeve opening while at the same time bringing the suit top part over your shoulder. Do the same on the other side. Simply zip up all the way and enjoy your swimsuit in the water. Easy.

Are there any accessories?
A simple unlined anorak (windbreaker) is a useful accessory for your swimsuit, made of a quick drying, breathable fabric. Always have one or more in your swimbag. It need not be waterproof, just keep the wind off.
Pick an anorak in a matching colour for your swimsuit, so you look cool on the beach. Make sure it is unlined or you'll find it uncomfortable, tangling with air bubbles or water pockets.
You can wear it as a warm up after your swim, or keep it on in the water for extra warmth and comfort. If your swimsuit doesn't have a hood, you can use the hood of your anorak.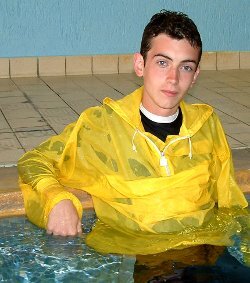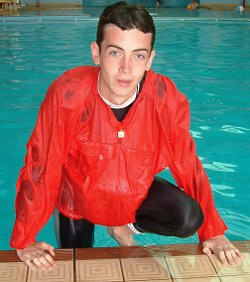 Any Swimsuit Alternatives?
Jeans and a tight pullover or swim shirt are an inexpensive swimsuit alternative unless you are in area with very small jellyfish that could swim inside your clothes or up your jeans legs.
This outfit is comfortable, but not as much as a swimsuit due to weight of wet jeans when you come out of the water. It causes more drag when swimming, doesn't stretch as much and takes longer to dry.
On the other hand it is more practical and robust than a swimsuit, giving you good protection from rough rocks or corals. You can wear jeans and a pullover anywhere, even when you're not swimming. Best of all, there is no need to get changed when you want to go into the water. Just jump in and enjoy.
Our Advice:
Get both. Always keep a few swimsuits, anoraks, jeans, and swim shirts or pullovers in your swimbag so you're ready for any situation. Keep a change of dry clothes for after your swim.