Thai Fisherman's Pants
If you've been to Thailand, you would have seen these great, truly versatile, and ubiquitous Thai fisherman's pants. You can't miss them because almost everybody has worn them somewhere, at some point or other. Check out our favorite pants to wear when on the beach.
They are very cozy and comfortable for swimming, yoga practice, sitting meditation or relaxing in the pool. The loose-fitting fabric dries fairly quickly. A thin shirt with these pants is the typical Thai swimming outfit.
Thai pants are great in hot weather as they are loose fitting and well ventilated. They are cool, allowing for all movement and suitable for both fun around the beach or pool. Worn with nothing underneath, the allow for a carefree holiday lifestyle in the water or around town.
Traditional Design
Thai fisherman pants are lightweight unisex trousers that are made very wide in the waist. The additional material is wrapped around the waist and tied to form a belt. They are very comfortable and easy to wear, and look good on everyone.
This classic simple design has worked well over the years. Fishermen need a simple, quick drying garment with freedom to move about on their boats and in the water. They need to be comfortable for wading, swimming and on deck.
These pants are unisex and unisize and should fit most everybody. Their one size fits all make these 100% natural cotton pants a great choice for all.
Kick Boxing (Muay Thai)
Many kick boxers in Thailand also wear them for their competitions. The legs are rolled up all the way, the top rolled down, and the strings knotted tight to make a kind of free-style shorts that allow for the unrestricted movement which kick boxing requires. AFter training, they roll them down again and relax in a pool or on the beach.
No Fly
An aside to men: There is no fly on the Thai fishermen's pants because none is needed; Thai men traditionally just roll up the wide legs for easy access. You don't need to wear any underwear, just feel the free-style and freedom around your body.

How to wear Thai Fisherman's Pants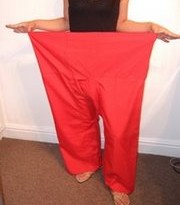 Pull the pants on (with the two waist ties on the backside) until the bottom of the pants is a little above the floor.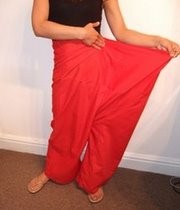 Either wrap the pants right, then left, or vice versa, or distribute the folds in the front or back so that the pants are snug against the waist. Pull one side right (or left) and hold with one hand. Fold the trouser over this hand to the left (or right)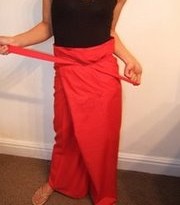 Keep holding the pants up, bring the two strings forward and tie them in the front. Tie them well so they stay put when you go swimming or enjoy other watersports.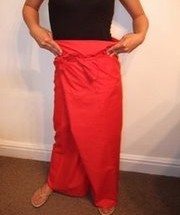 Then roll the top fabric over the tied strings. Fold all layers above the tied cords down. This is what gives them their unique look.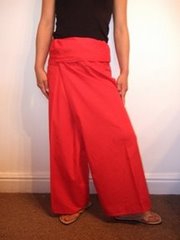 Done. Easy! The two tie straps wrap around the waist and hold the pants up with the top overlapping to give a carefree design to the pant.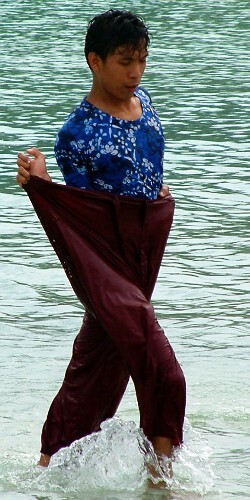 Thai pants can be quickly adjusted.

Of course, feel free experiment with different ways of wrapping and distributing the folds and different heights at which you tie the strings to create your signature look. It may take a bit of experimenting (it's part of the fun) to find just the right folds and tucks that work for you. We offer only basic instructions here as a preliminary guide to get you started.
Fisherman's pants may appear very baggy at first but with the right tuck, you'll find out why these simple pants have been so popular for so long and won the hearts of so many converts the world over.
You can truly exercise your creativity in twisting and turning and rolling the top or folding the bottom of these pants to create a signature look unique only to you. Wrap them left, wrap them right, or distribute the folds equally in the front or back: there really are endless ways to wear Thai fisherman's pants.

Trendy Fashion
They weren't originally made to be trendy, but like most classic clothing items that have become mainstream due to comfy, practical and efficient design, the Thai fisherman's pants have entered the rarefied realm of "really cool" clothing.
Men and women love them because they are so simple to put on and allow for ease of movement, whether you're swimming, beach combing, practicing T'ai Chi, yoga, or meditation, or just lounging and relaxing. A reader told us that the Thai fisherman's pants have become the "uniform" that all stylists wear at one of the trendiest hair salons in Amsterdam.
Although traditionally worn as part of a casual setup, the Thai fisherman's pants have recently been turned into designer items with different patterns printed onto the sides of the pants, etc...
Your imagination is the limit: wear them urban-dressy or casual-cool, it's up to you. And if you know a bit about screen printing, well, you'll have lots of fun churning out your own unique design statements.
Although originally used by fishermen in Thailand, they have become popular as casual, beach, and exercise wear and also with backpackers.
Women Love Them
Fishermen's pants are wonderful for expecting mothers because they can easily accommodate the growing belly (up to 54" inches) with purity, sustainability, comfort, and style.
Pregnant women will love these pants because they comfortably accommodate the growing belly up to 54" round. You can wear them as tight or as loose as you like as there is no elastic to confine you at the waist.

Reader Comment
by Danny from Sydney, Australia
When I first saw these pants in the shop I was a bit put off by their wide design. I didn't know how to tie them or that you wear them without underwear or swimwear underneath.
When I saw my Thai friend combine them with a T-shirt to go swimming, I realised that it all depends on the right size and how you wear them. They looked slim and elegant, even when wet. The T-shirt balanced the look and avoided sunburn. He said it's the most comfy swimming outfit he has.
So I went out and bought some Thai pants and a few T-shirts. The next day I went to the beach in my new swimwear and walked slowly into the sea. Indeed, the soft fabric felt really good as it floated around my body. It was a lot more comfortable than those swimming briefs or surf shorts with their itchy liners. I also wear this outfit now in the local swimming pool.