Beach Pants
Look good on the beach this summer in long pants, also known as board pants, kite pants, surf pants, or simply water pants.
Enjoy your beach pants for windsurfing, kiteboarding, wakeboarding, travelling (they pack super light and small), and of course for swimming. The cool design means there is no need to change before enjoying the nightlife after a good day on the beach. Just rinse and go.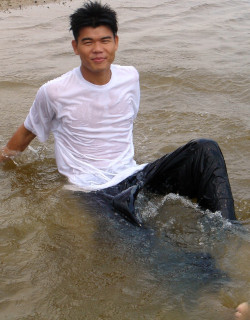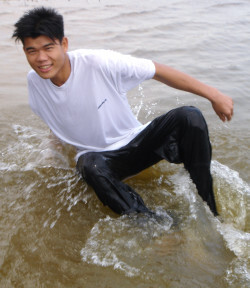 Classic black and white style
Watersports
Beach pants are great for other watersports on cooler days, including sea swimming. Some people think rain pants are a fashion no-no. When you wear your rain pants and get a smirk from hipsters remember, your legs are warm, their legs are not.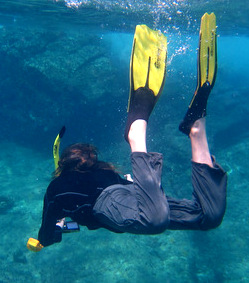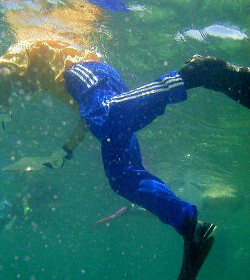 Canoeing pants offer a classic fit and durability, but with waterproof/breathable fabric, made of a 2-ply nylon with a waterproof/breathable Urethane coating. This allows the same level of waterproof protection while allowing moisture vapour to pass to the outside of the garment. They keep spray and splashes off with neoprene waist and ankle closures.
Better pants also have a smooth-skin, high-back neoprene waistband with an adjustable bungee draw-cord waist. The articulated anatomical design is built for sitting in a boat and is comfortable enough to wear all day long.
Ankle cuffs should close with Velcro and the pockets offer a convenient place to store trip essentials. Fortunately, rain pants don't need to be as fancy as the rain coat.

Fabric Like Surf Shorts
Beach pants feel and fit like surf shorts, they are just longer. Full length water pants are usually made of super soft and durable microfiber (board short material), a stain resistant, quick drying fabric, same as for most surf shorts. The excellent breathing qualities remain when wet. The lightweight fabric does not reduce mobility.
Some water pants are more robust than regular shorts and should last longer, justifying the higher price. The better ones feature fast-drying fabric for optimal comfort on the beach or in the water. Most are made from 100% polyester with acrylic coating which is wind and water repellant.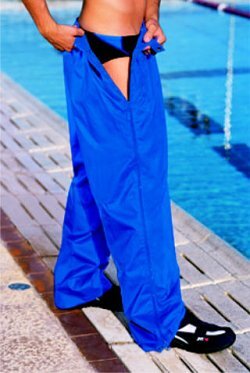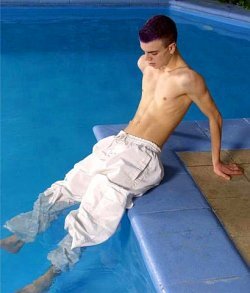 Beach pants are also cool in the pool.
Layers
Most people wear their rain pants over their regular pants, not in place of them. This could become too warm when you get going. Thin running tights (Tracksters) worn underneath are more comfortable than jeans or heavy trousers. In warm weather you could wear breathable pants on their own.
Pockets
Most water pants have pockets with zips. This is useful when you wear the pants on their own, like when you go swimming. Some pants have only a pocket opening so you can reach the pockets in your regular pants. This probably makes them a little less waterproof but it is very convenient because you don't need to keep moving stuff from your regular pockets to your rain pants pockets and back again.
Better beach pants have triple stitch side seams with two or four side pockets, velcro ankle closures and a drawcord at the waist. Side pockets are big enough for your wallet and keys.
Pool Training
Do some pool training before you go out on open water. Nothing is more annoying than your pants slipping or ripping because they don't fit will in the water. Swimming and jumping around the pool will quickly show any weaknesses.
Traveling
There's no better way to ward off cabin chill on an airplane or stay warm at the beach once the sun goes down. These fast-drying brushed microfibre pants are the ideal travelling companion and will roll up nicely in your pack for wrinkle-free leg covering when you need it.

Matching Top
Your anorak or long cagoule will keep your top half dry and warm. Water pants wrap up the look for all the splash sports you enjoy.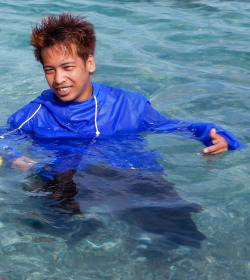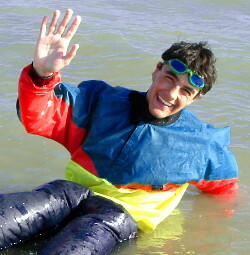 Canoeing cag and pants.
Kite Pants
In hot weather you may find kite pants nice to keep the sun off your legs when you are out on or in the water the whole day. They keep you cool and prevent sunburn.
Kite pants make better swimmers, at least the pair shown in the picture. Actually, they almost serve as a liferaft for when you're down in the water. You can see in the photo how much air this particular pair could hold inside due to the baggy design.
Kitesurfing clothes for optimal performance. Whether you're an amateur or professional kitesurfer, choosing high-quality specialist clothing will help you to get the best from your experience; you'll enjoy lightweight, flexible clothing that can regulate body heat and enable maximum manoeuvrability
I just started wearing Dakine Nitrous pants, I feel like a kite-surfer now, I look a prat (Quote "My partner") and I am scared of ripping the pants and not my wetsuit.
My kite-surfing is also "Pants" but the Nitrous shorts are very comfortable to wear, I have more freedom of movement and the hook is slightly lower.
Last weekend a pal saw me from a distance and didn't recognise me because I "Had a frock on" (If you dont know what a "Frock" is. Ask your dad) I agree with Fo on this one. We all look like a bunch of girls just so we cannot be mistaken for pole-surfers.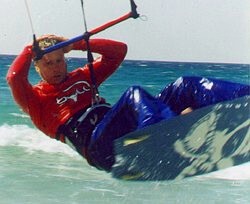 Features
Classic front lace closure
Drain pockets
Fast-drying fabric
No lining

My Kite Pants
by Tom, from Galway, Ireland
I bought a thin unlined anorak with a pair of kite pants and have used them in all seasons. They are not very breathable or waterproof, but great for my watersports because they keep me warm when wet.
The pants and pullover anorak together were were not expensive, just under €50. There are lighter weight and more breathable options out there, but they will cost you.
The first backpacking trip I went on with my friends was along the nearby coastal path. We got soaked a lot as it rained the whole time. Often we went for a swim in secluded coves. It was a very pleasant hike because we were prepared.
The bottom line is getting out on the beach in the rain, because I agree with other people saying, that hiking in the rain is very enjoyable as long as your gear can take it.
In the winter I wear my kite pants, swim shirt, and sometimes the anorak in the local swimming pool to stay fit and agile.