Water Pants
For most watersports you may want robust but comfy trousers or pants that can get wet often and dry quickly. Sometimes all that is needed is a variety of different sports trousers or pants to cater for different weather conditions.
You can choose from a wide variety of:
rain pants, lightweight and quick drying.
jogging pants, comfy but heavy when wet.
microfibre pants, keep you warm when wet.
track pants, robust for wet adventure sports.
Shower proof finishes and microfibre fabrics all provide great options and will allow you to make the perfect choice for your requirements. Safety features like reflective piping will permit visibility when training at night or rain running on roads.
Design
Make sure you can put them on and take off easily. Look for pants that have either wide legs, or zippers that go at least part way up the leg so you can get them over your shoes.
Waistbands may be elasticated and should have a draw cord to keep your pants in place. Legs may be full length or three-quarter length.
We've found long rain pants the most practical, comfy and quick drying.

Features
No lining
Pockets with drain holes
Fast-drying and comfortable fabric
Belt made of robust man-made fabric, not leather
You'll probably want to also wear them when you go indoors. Note that some nylon pants make a nice swishing noise when you walk around, unlike regular pants.
Unlined
Water pants should be unlined to avoid air and water pockets. Any lining can fill up with air or water which might hinder your movements. Choose unlined pants, elasticated with a waistband, a plain hemline finish and maybe zip opening lower legs.

Sun Protection
Beach pants with a hooded top provide optimal sun protection with good ventilation. Various pockets let you carry keys, money, waterproof camera, and such.
The quick drying fabric lets you wear this suit in the water and then dry out quickly in the warm breeze. If you get too hot, just take another dip or shower. You can wear it over swimwear or on its own. The soft fabric feels good on the skin, both wet or dry. This makes it the ideal warm weather outfit.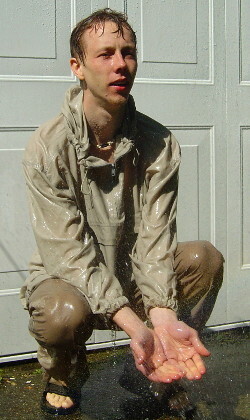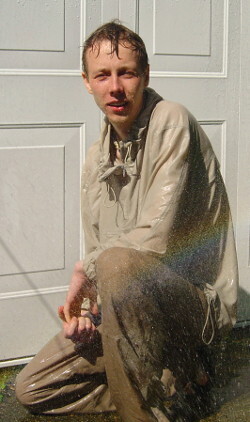 Swimming Pools
Beach pants are versatile swimwear for your local pool or on holiday. Combined with a nylon shirt, beach pants make a comfortable modest swimsuit. It is also superb for swim training as it provides some drag resistance.
Leisure centres prefer swimwear consisting of manmade fibres to keep the bacterial load down and protect their pool filters. Beach pants are often made of the same tough material as surf shorts, which is also fairly chlorine resistant.
Before venturing outdoors, try your beach pants in the pool. Nothing is more annoying than your pants slipping or ripping because they don't fit well in the water.