Cargo Pants
Go outside. Play. Get wet if you like. But don't forget your cargo pants.
Cargo pants are quite versatile and stand up well to hard use and wet weather. They have been a street fashion favourite for years, conveying youthful rebellion and unabashed androgyny. They are also practical swimwear. If your idea of having fun involves getting wet a lot, then comfortable cargo pants should be your standard outfit.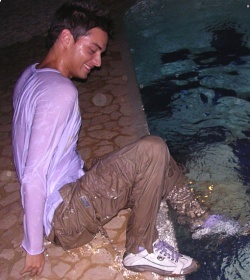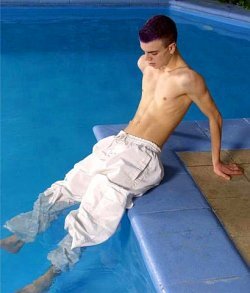 Quick Drying Fabric
The thin fabric gets wet fast but dries quickly. Some are made of 100% Nycott fabric which is amazingly fast drying and durable. When they get wet they'll be dry long before any swim suit.
The quick-drying fabric pulls sweat away from your skin to evaporate on the surface keeping you drier and warmer during high aerobic activity. Brush off the water from a drizzle or squeeze garment out after a sudden downpour and it's as good as dry. The better ones have front pockets with a mesh lining for fast venting and even faster draining.
Mesh Lining
Some pants have asoft, built-in mesh lining (or brief) to eliminate the discomfort of cold, damp underwear. Make sure the mesh lining is nice and soft, as sitting on damp mesh of cheap quality can become itchy.