Polyester
Polyester is a good choice for quality sportswear and swimming because it is hydrophobic which means it does not absorb much water and dries quickly.
Polyester fabrics provide provide specific advantages over natural fabrics, such as wrinkle resistance, ability to withstand pressure, high colour retention and the crystalline aromatic polyesters are used for heat-resistance.
Depending what other fiber is mixed with Polyester, the resulting fabric can provide resistance to chlorine and UV radiation keeping skin protected, also preserve colors and elasticity when used in chlorinated pools or exposed to sun light.

Sun Protection
Polyester fabrics offer UPF50+ sun protection by blocking over 97.5% of the sun UVA and UVB radiation, are chlorine resistant and retain colors and elasticity when used in the sea or chlorinated pools.
A lightweight and breathable swim pullover with long sleeves keeps your skin cool even in hot weather conditions.
Most polyester fabrics feel soft on your skin with silky touch and also are fun to wear, so your family can enjoy the sun all day long while being protected and feeling natural and safe.
Polyester swimwear is generally more expensive than the mid-priced Lycra swimsuits and lower-priced Nylon swimwear.

Poplin
Poplin is a versatile plain weave apparel fabric. With a similar resemblance to broadcloth, poplin comes in a 100% polyester variety or a poly cotton blend. Poplin is a wrinkle-free and breathable fabric. It comes in a variety of colors and has a nice drape with very little stretch in any direction.
The 5 oz. poly cotton blend is the heavier of the two options and is often used for apparel and uniforms. Most notably it is the material that many hospital scrubs are made out of.
100% polyester poplin can be used for making bias tape, flag making, and crafts, but both can be used for just about any project that needs a basic lightweight fabric.
Poplin is a great material for beginner sewers or those looking to start making apparel, because it is easy to work with. It is used by sewers of all skill levels because of its casual appearance, comfort, durability, and ease of care.
PVC-Coated Polyester
PVC-coated polyester is 100% polyester with a smooth poly-vinyl chloride coating on the back and a subtle texture on the front. It can be used for things like luggage, bags, cases, and covers for indoor storage. This polyester does not fray, rip, or tear, making it strong and durable for all types of usages. It comes in different colors and prints.

Reader Story: Cycling and Swimming
My main sports are cycling and swimming. Often I combine these into one training session and wear the same clothes for the entire run. I'm too lazy to get changed. Waste of time.
My polyester sportswear is ideal for this. It is tough enough to edure my training but feels soft enough to enjoy in on the bike and in the pool. My kit consists of a comfy cycling shirt and tough cargo shorts. First I swim, then ride the bike. By the time I get home my clothes are dry again.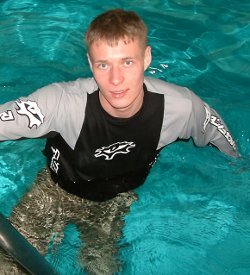 I swim in my cycling clothes.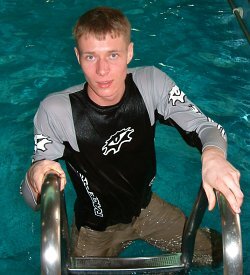 They boost my training with drag.