Cotton and Poly-Cotton
Cotton is popular because it feels soft on land and in the water.
Ventile
100% cotton, quiet, comfortable, wind and weatherproof. The secret is in the tight weave which when rained on swells to further increase its resistance to water. It also has a light Teflon coating to help the water run off. Because it is cotton it breathes better than anything.
Poly-Cotton
Windproof, showerproof and fast drying. 50/50 poly/cotton with silicone. Breathable, easy to wash. This fabric comes with different thickness. A lightweight poly-cotton garment feels soft on the skin, both wet or dry, in or out of the water. It may not be as robust, but dries much quicker, often while you wear it. Great for beach and pools to protect from sunburn when swimming. For wild adventure you may want the thicker, more robust fabric that can cope better with abraision. Downside is that it may not dry as fast.

Cool Cotton
Cotton T-shirts are very popular as swim clothes because they feel soft and cosy on land and in the water. Jeans or jogging suit are also popular choices for strong swimmers.
Cotton can't stand several harmful effects of chlorine and the sun. Colors will fade over time and it tends to lose shape.
Also cotton absorbs more water than other fabrics which makes it heavier and can cause more drag on swimmers when in the water. If you do resistance swim training then cotton is just what you need. Try a jogging suit or hoodie with jeans.
Please note:
In cool weather cotton can chill you out quickly. In hot weather this cooling effect can be refreshing.

Hot Weather
Cotton shirts and jeans are ideal for hot climates as they dry slowly and keep you cool. Keep in mind that white T-shirts can be seen through when wet. To improve the sun protection factor, wear two or more T-shirts, perhaps a long sleeved one underneath a short sleeved one.
Dark colours underneath light colours look good as they shine through when wet with interesting patterns. They also provide better cover against sunburn. The more often you get your cotton shirts wet, the tighter the weave gets. This improves the sun protection when you go swimming.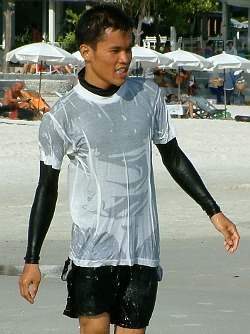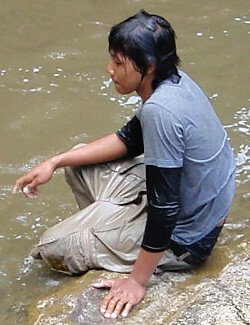 Broadcloth
Broadcloth is a plain weave fabric that is lightweight and incredibly versatile. With a similar resemblance to Poplin, broadcloth comes in 100% cotton or a poly cotton blend.
Most often, it is used for quilts, apparel, bag liners, and crafts, but you can use it for just about anything that needs a basic lightweight fabric, like Tai Chi suits and bathing clothes.
Broadcloth is a great material for sewing beginners because it is very easy to work with. It is a basic material and can be sewn by hand or with a sewing machine. It comes in a variety of colors that will match most any outfit.
Muslin Fabric
Muslin fabric is 100% cotton with a plain weave making it versatile and easy to work with. The unbleached muslin has more of a natural irregular beige color while the bleached muslin cloth is white.
It comes in many widths, thread counts, and weights. Typically the higher the thread count the better the quality while the lighter the weight the easier it drapes. There are countless possibilities for this cotton muslin but photography, theater, meditation clothes and bathing suits are some of the more popular ones.

Anoraks as Windbreakers and UV Sun Protection
A lightweight cotton windbreaker feels comfy on the beach and in the water, while it gives good sunburn protection. The loose fit is airy and quick drying, so you can wear it all day long.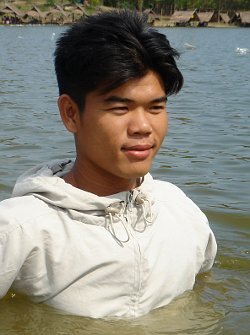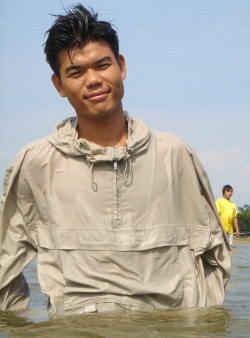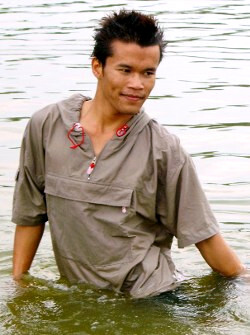 Casual Clothes for Wet Fun and Warmth
Spontaneous people with independent minds don't miss a chance to splash around and have fun in the sea, a lake or pool. They keep their casual clothes on in the water to stay warm, and change into dry kit afterwards.