Pertex Windproof Nylon
Pertex is made of microfine filament yarns tightly woven into a tiny rip-stop pattern which give this great fabric such terrific properties.
Pertex is not waterproof, but incredibly breathable and windproof. Thus it is ideal for any situation where it is windy but not actually raining, like mountaineering, and almost essential for any sort of water sport. Use it as a mid layer. The fabric is slick and causes less friction.
Using a windproof rather than a waterproof anorak will leave you feeling considerably more comfortable when walking, climbing, or running. For swimming this makes little difference. Best of all it dries very quickly.
Main Properties:
Windproof

Water repellent

Breathable

Featherweight

Soft as silk

Tear resistant

Best strength to weight ratio

Used in ultra-light gear

Features:
Not bulky
Packs into a small space
Doesn't make you sweat
Highly breathable
Wicks moisture
Fast drying
Great for swimming, snorkeling or on the beach
Tough and Durable

We strongly believe that less weight shouldn't mean 'please be careful'. Pertex shows the best strength to weight ratio. Tear strength and seam strength are good for its weight.
Pertex can be used in shell jackets and withstands the abuse of hardcore action. Its abrasion resistance however is not comparable with standard weight 44 decitex fabrics.
Pertex Shield+ High Performance Fabric
Pertex, a leading producer of extremely lightweight and highly-durable performance fabrics, has developed new Pertex Shield AP and a lighter weight version of Pertex Shield+, in response for the growing demand for extremely-lightweight, weatherproof outerwear.
Montane's new Air Jacket is a light, breathable and versatile mountain shell constructed with Pertex Shield AP. Designed with a 100% nylon rip-stop face and an advanced air porous membrane, the Air Jacket is developed to offer the highest levels of waterproof durability and breathability, providing all day comfort in a wide range of weather conditions.

Reader Story: Beach Lifeguard
by Wan from Myanmar, now in Thailand
When on duty, I always have to wear a red and yellow Pertex suit for sun protection and to be visible. It is very comfortable to wear all day long. I often have to go into the water at short notice to help someone, no time to get changed into swimwear. This is a really nice swimsuit, feels so good in the water. It dries so quickly, faster than tight swim shirts and has much better ventilation. I really enjoy swimming in this swimsuit and keep it on after I come out of the water to let it dry in the warm breeze.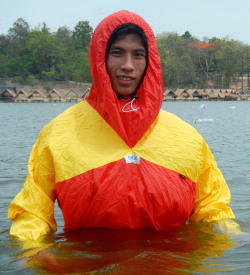 The hood keeps me safe on long days in the sun. I wear it most of the time.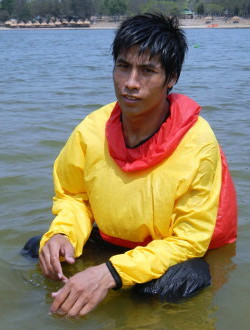 During my leisure time I wear one of my university Pertex suits for playing on the beach or swimming in the lake, because it feels so good and is lightweight.