Helanca
Helanca fabric is particularly soft, stretchy (up to 500%), breathable and drip dries faster than cotton. It is comfortable to wear both wet and dry and retains its shape.
Helanca is a pique fabric with a four way stretch, usually made of Polyamide (Nylon). It is similar to Spandex and can be used in swimming and bathing suits, or other garments which require lots of movement and other technical performance needs. This makes Helanca clothes useful for many water sports, if you can still find them.
Only drawback is that if the fabric gets damaged it can run a line and unravel. A drop of superglue applied in time can stop that.

History
Helanca is a highly elastic polyamide filament yarn developed by Rudolph Kägi in 1931. As the head of the American subsidiary of Swiss company Heberlein & Co, Kägi initially worked on the smoothing of surfaces for fabrics made of artificial silk. The result was acquired by his employer who developed it to the product maturity and patented this procedure. Helanca is a protected brand name.
Today, instead of the original artificial silk, only synthetic fibres made of nylon (polyamide) are used. Helanca swimwear, pullovers and sportswear were very popular in the 1970's, but got later superseded by Spandex.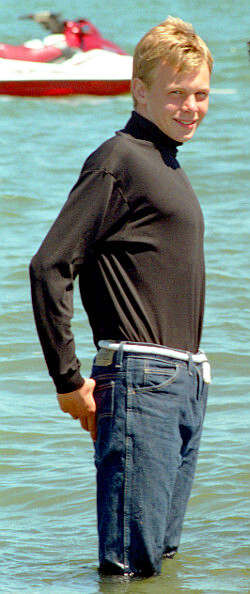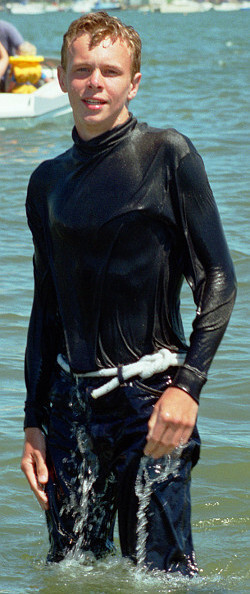 Best Beach Outfit Ever
By Greg from Bournemouth, England
Why spend lots of money on brandname swimwear when you can stay safe in the sun with a simple swim pullover and tracksuit bottoms?
This is my coolest swimming outfit ever. I picked up a pile of these Helanca pullovers in a sports shop sale complete with trackies. They look good on land, feel great in the water.