Full Body Swimsuits (Chlorine Resistant)
Enjoy complete protection from jellyfish and the sun while swimming in a full body swimsuit.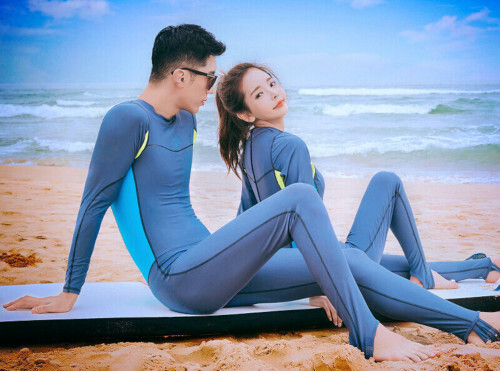 Even on overcast days you get up to 80% of UV light
. Not only for beach fitness activities, but while performing competitive swimming in the sea, a full body swimsuit protects you from sunburn, sea creatures like jellyfish, or stings and venom from sea lice.
These swimsuits are very comfortable as they are made from an excellent stretch fabric, which is very soft, breathable, and lightweight. The better swimsuits are chlorine resistant, so you can also wear them in the swimming pool.
Typical Specifications of Swimsuits
Features: No chafing due to flatlock stitching design. Chlorine resistant fabric retains colors and elasticity for the life of the product. Quick drying.
Water Temperature: Suitable for warm and lukewarm water temperature 20°C / 70°F, also can be used in colder waters and/or heated pools.
Sun Protection: UPF50+ blocks >97.5% of the sun UV radiation, protect against Jellyfish Stingers, Sea Lice and Sandfly.
Weather Effect: Can be used during hot, mild or cool weather, fabric is light weight and breathable keeping your skin cool even in hot weather conditions;
Material: 53% Polyester, 47% PBT, chlorine resistant. The fabric also provides your body the freedom to sweat, which helps in regulating the body temperature and keeping it cool even on days when the sun emits scorching heat.
Strength: Extremely durable with excellent stretch and recovery functions.
Weight: 170gsm (lighter than most traditional swimwear fabric)
Fabric care: Preferred cold water hand wash, if machine wash use cold water only.