Windshirt Swim Test
by Robert, Jetski Operator, Mindanao, Philippines
All day long I go in and out of the water when renting out jetskis on the beach. The jetskis are moored off the beach. Whenever a customer wants to rent one, I swim out and bring it to the beach. For this I need functional clothing to avoid sunburn and jellyfish. My windshirt and long pants feel comfortable in the water and are easy to swim in.
When I first tried on a golfing windshirt I thought I may need a larger size, but the it had a good fit, especially in the sleeves and hem length. It is just not as baggy as an anorak because you won't wear thick clothing underneath.
The look and feel of this windshirt was great, with good movement to fit the intended purpose for outdoor sports or as waterwear.
Wind
I had a chance to wear the windshirt in really windy conditions during an approaching thunderstorm. I was only wearing a short sleeve tee-shirt underneath and noticed very little wind on my bare arms. The fabric felt very comfortable and didn't flap around much due to the relatively tight fit compared to an anorak.
Rain
When it started to rain I soon got soaked to the skin as the windshirt is not waterproof, just a windbreaker. However, it still reduced the wind somewhat. I stayed reasonably warm and comfortable which was quite a surprise to me. I thought the windshirt was designed for much lighter conditions then those on that day. It soaks up very little water and doesn't get heavy when wet.
Swimming
Next day I wore my windshirt for swimming in the sea, first on bare skin which felt like almost no weight, just a soft touch. Later in the cooler afternoon I wore it over my polo shirt for another swim. In either case the fabric felt soft and comfortable without getting the the way.
Swimming in a windshirt was easy due to the slim fit and the correct length of the arms. The cuffs avoid too much water coming in and keep the sleeves from riding up. The slim cut sleeves don't billow up with each swimming stroke.
Summary
This windshirt is great for hot days on the beach. It gives good sun protection without being too hot. If you buy it one size larger you get good ventilation.
I enjoyed swimming in this windshirt a lot. In the water the soft nylon fabric feels smooth and very lightweight, not heavy. After swimming I let it dry quickly while still wearing it on the beach. Some windshirts have a knitted collar and cuffs which may take longer to dry.
Highly recommended as multi-purpose beach and pool wear. Available from good sports stores and many golf shops.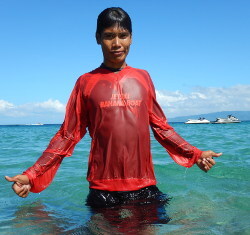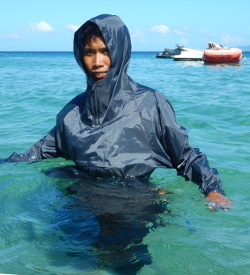 A hooded windshirt protects me from the midday sun.