Windshirt Features
Not all windshirts have all these features.
Windproof (one of the reasons they are known as windshirts).
Really lightweight, more than a waterproof jacket.
Super breathable, much more so than the usual waterproofs.
Knit trim at collar, cuffs and waist.
Helps avoid sunburn.
Easy for swimming.
Feels good both wet or dry.
Fast drying.
No sensitive membranes or coatings that may need care.
Water resistant, soaks through in heavy rain but fine for a quick shower.
Side insert pockets.
Some have a short front zipper.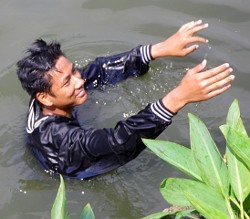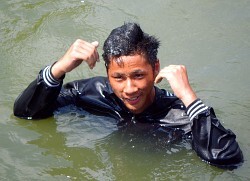 Fabrics
Many windproof clothing ranges are treated with Teflon to offer slight water-resistance, although their main function is purely wind-based protection.
Fabrics range from soft nylon to microfiber polyester blends. Most windshirts are made of Nylon Taslan fabric. They dry fast, but the knitted cuffs and collar may take a bit longer.
The lightweight water resistant nylon or breathable Pertex is not enough protection for sustained rain, but can be worn over a fleece or base layer to cut the wind and keep you warmer.
Hoods
Some windshirts come with adjustable hoods, which is our preference. When dry they keep you warmer in cooler weather. In hot weather they can keep you refreshingly cool when wet.
Layers
A windshirt forms part of the good old fashioned layering system. It can be worn in lots of different weather conditions, over or under a range of different garments.
Worn on top of a thin wicking baselayer it provides a great deal of warmth by cutting out the wind. Because both layers are fast drying, a downpour or swim is not a problem as you will dry quickly afterwards.
They are also great over thicker fleeces. With a good baselayer, a thick fleece and your windshirt, you will be pretty toasty in most conditions.
Lining
More expensive windshirts have a mesh lining for breathability, most don't. If you intend to wear one for swimming, avoid any lining. Annoying pockets of air or water can form inside.
We also recommend you look for windshirts with elastic in the wrist cuffs so you can vent them when you start to sweat. For example, when you start to overheat, you pull up the sleeves on your windshirt to cool off through your wrists and arms. That can be enough to stop you sweating without requiring a layer change.