Wäfo Hiking Capes and Ponchos
www.waefo.de
Wäfo is a German manufacturer of products for outdoor sports

, hiking, and workwear, who do direct sales to the public and through outdoor adventure stores.

Wäfo is a brand of German manufacturer Ziegler GmbH. Their head office is located about thirty kilometers from Strasbourg, halfway between Oberkirch and Lautenbach in the Rhine Valley. Opening hours are Friday between 14 hours and 18 hours and on Saturdays between 9 am and noon. The prices are on average 20 to 25% lower than their distributors. Except, it seems, the bivy bags.

The Wäfo product range has many items of interest to watersport enthusiasts, especially their ponchos and capes, and bivvy bags and track pants, most are even breathable. They are well finished and inspire confidence. Our reviewers found many more uses for these capes than hiking in the rain.

Some of the photos on this page show older models. Functionally they are mostly the same. The new design has longer sleeves and a visor on the hood to keep rain and sun out of your face. There are also improvements in the materials.

Tropical Adventures
We've enjoyed Wäfo hiking capes and ponchos for many years, mostly on trips to tropical regions, like Thailand and the Philippines. They are comfy during the heavy downpours and later as sun protection. The long design with full length sleeves provides good rain cover or sun shade.
The soft, breathable fabric makes Wäfo hiking capes ideal for the tropical climate, and the low weight means you can wear it all day, or keep one in your bag. The local people who showed us around, either by boat or car, took a keen interest in the ponchos and capes. For some unknown reason they always liked the red capes best.
Off to the Beach
We took a sailing boat with crew to a beautiful beach in Boracay, Philippines. When we got there, they quickly ran for shade among the trees. Being out in the sun all day, they seek shade whenever possible.
UV Sun Protection
When we put on the hiking capes for a photo shoot they came back and asked if we had any spare that they could wear to relax on the beach. Of course we had a few hiking capes spare, much to the delight of our sailors. Some wore these over their sailing clothes, others directly on their skin.
They liked the feel of the soft fabric and had great fun playing on the beach, splashing around, and swimming in these capes. We've found out later that they seek to avoid the sun, but love to play in the water. These hiking capes were just right for that and our friends had lots of fun.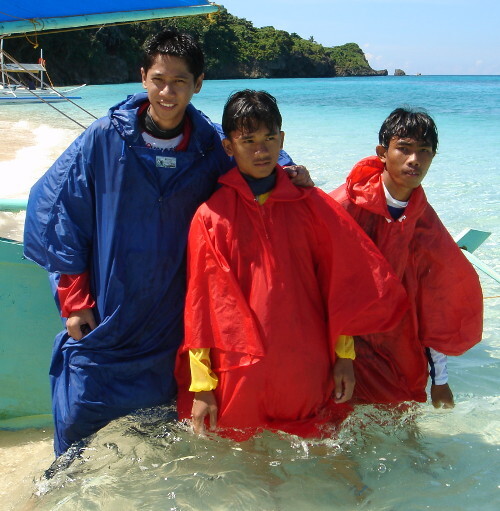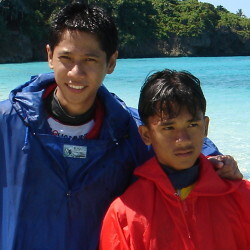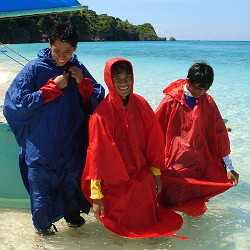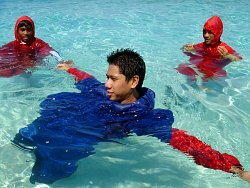 Filipino sailors use Wäfo capes for sun protection.