Reader Comment
by Chris from Mindanao, Philippines
I work on the beach at a beautiful resort in the Philippines. When guiding boats or jetskis onto the beach I wear a Wäfo red rain cape all day, because I have to be visible to all traffic, even in bad weather. There are frequent showers during the rainy season followed by hot sunshine.
I often have to go into the water when landing tourist boats onto the beach or help them depart. This means wading into chest deep water and help them avoid big underwater rocks. Sometimes, I also go out with the boats to the snorkeling reefs to help our guests in and out of the water.
There is no time for me to change clothes whenever I get wet, so my outfit must dry quickly, feel good both wet and dry, and protect me from sunburn. It also has to be in a bright colour so I'm visible from a distance to other boats, like when we go snorkelling.
My work clothes are thin nylon pants and anoraks that are no longer waterproof, and the rain cape. They feel good both wet or dry, and are easy to swim in whenever I have to go into the water.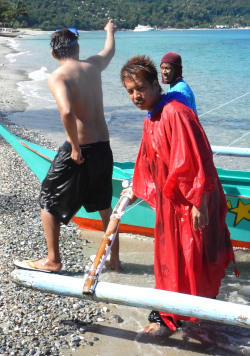 This snorkeling tourist got serious sunburn on his back. I didn't.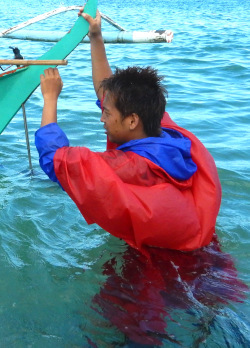 My job is to guide boats onto the beach past big rocks. I have to be visible in red.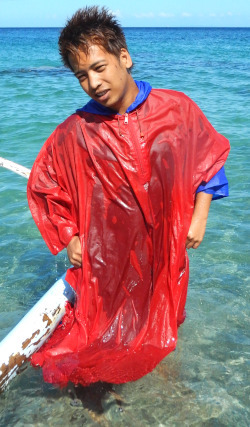 My comfy work clothes