Test Review: Vaude Valero Cycling Cape
This wind and waterproof rain cape with sleeves looks a bit like a cagoule that is wider around the bottom, and longer in the front to go over the handlebars of your bike. Openings in the front let you keep your hands inside on the handlebars. If you're caught by the rain on your bike, the Valero cycling cape is pulled over in a flash.
The Vaude Valero Cycling Cape is made from environmentally friendly material and keeps you fairly dry if you keep the hood up, like with most rainwear.
The large hood has a front and rear size adjuster. This is important for a good fit.
The zippered chest pocket with flap keeps small stuff, or you can store this rain cape itself in there.
Canoeing
Since this rain cape is similar to a cagoule, you can also use it like a canoeing cag. It is long enough to cover you upper legs, and also fits under a spray deck. When you come out of the water and sit down, you can pull the long front over your legs to stay warm.
Swimming
For short swims or water fording you can keep it on, but you may not want to wear it for long swims. The bell shape makes the bottom to wide so it may float around too much. The long sleeves give you freedom to move your arms when you choose to wear it in the water. That makes it great for many water sports.

Features
Adjustable cuffs with Velcro

Attached, adjustable hood

Two small side openings to put your arms back in

Hand straps to grasp with the handlebars

Elastic waistband inside avoids the back flapping around

One front pocket can be used to store small bits or the cape itself

Good fitting long sleeves make it suitable for swimming due to free arm movement

Safety feature: Reflective elements on the front and back

Material: 100% polyamide, polyurethane coated

Cut: Loose Fit

Back length: 96 cm

Weight: 353 grams
Summary
We like this rain cape a lot because it is very versatile and practical. The front pocket is useful for keeping small things close to hand. The hood fits quite well. It covers a small backpack to keep your things dry, which is a plus in case of sudden rain. Combine it with cargo pants, rain pants, or running tights and you have a great outfit for wet adventures.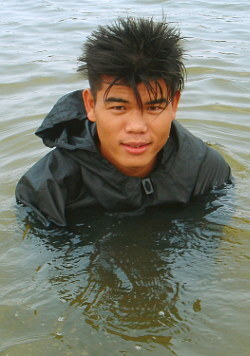 You can swim in it.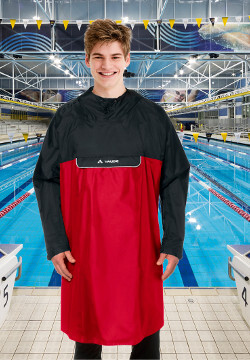 We wear these capes for resistance swim training.