Towel Poncho
Towel ponchos usually come in one size for adults and one that fits most kids. Great for getting changed on the beach. Some towel ponchos come with a hood to help dry off your hair or protect against sunburn.
The towel poncho is compact when rolled or folded, so you can take it to the beach or pool. Just slip it over your head and you're ready to go. It works as lounge wear or after a bath at home, at the swimming pool, or a multi-use garment on holiday.
This easy care towel is soft and absorbent, fully machine washable and tumble dryer safe. Available in many colourful designs, poncho towels are essential for summer and all year round.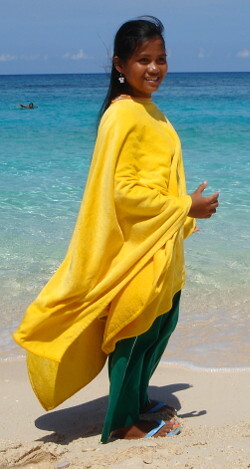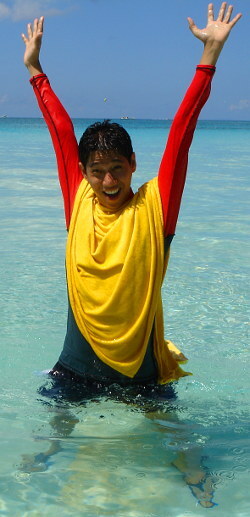 Please note:
Be mindful that poncho towels get heavy if you wear them in the water. This may be fun for good swimmers, but others should be careful. Cotton takes a long time to dry because it soaks up so much water. Wring it all out and hang it up in a warm, ventilated space to dry. Microfibre ponchos dry much faster.

Soft Microfibre Sun Ponchos
Some swimmers hate that moment at the end of a swim, especially during the winter season, when they take off their wetsuit or swimming clothes and feel so cold.
With a microfibre poncho you are now able to keep your body temperature right, and dry yourself much faster. They are really easy to put on and take off, a perfect 'throw on' towel or cover-up for swimming, beach, playtime or bath time.
Microfibre ponchos are an alternative to the classic original bathrobe. They combine innovation with practicality and elegance.
Most poncho towels are heavy when wet but these are super absorbing and won't feel like you're wearing an anvil.
It is roughly four times lighter than standard cotton products and has much greater drying properties because it is highly absorbent and will dry 8 times quicker than a standard beach towel. The poncho hood dries your hair and adds to the fun.
The microfiber used for these new ponchos has a degree of absorbency of over 300% and a weight of less than half the conventional terry bathrobes and cotton.
You can also use them as big beach towels to cover chairs or sunbeds. The compact size and low weight make them a very useful item for travel. They are machine washable and require no ironing.
Don't wear this poncho for too long though, you may end up living in it. It is so soft and comfortable, both wet and dry.
Microfibre Poncho Key Features
Easy to change before and after your watersport session
Compact and lightweight: occupies little space and is easy to travel with it
Uses 5 times Less space than a traditional towel poncho
Dries 3 times faster than a traditional Poncho
Convenient to change at any place and extra absorbent
Reader Comments
Swim Team
by Ralf from Spain
We're a group of friends who go swimming a lot, mainly in an Olympic sized pool nearby, but also smaller hotel pools.
Towel ponchos are great for breaks between swimming sessions. We put them on when we sit on poolside and they quickly dry off our swim shirts and nylon pants. They feel really cosy and avoid sunburn while we eat some healthy snacks.
Most of us now wear microfibre ponchos, as they dry much faster that cotton. In hot weather we get them wet during a quick swim and them keep them on to stay cool.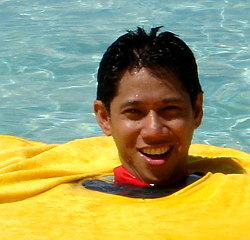 "Ha ha, I couldn't resist jumping into the pool with this on."
After several swimming breaks these towels are soaking wet from absorbed water.
Just for fun we then wear them in the teaching pool when we relax and talk about our training.
They float and wrap around us when we huddle up together. This keeps us warm in the water and feels great.