Army Ponchos as Versatile Shelter
The army poncho can also serve as an individual shelter. When you button two ponchos together it makes a nice shelter for you and a friend. On adventures one poncho is carried by each person, and when combined with another forms a two-person tent.
Get your poncho as big as you can, if you want to use it as a shelter. Multi-purpose ponchos offer decent rain protection when being worn or slept under. It is tough enough for use as an emergency shelter if need be. Most army ponchos have grommet holes in the corners for use as a lean-to tarp or tent.
There are several nylon webbing tie loops on the corners and along the edges for versatile tarp set up. Edges are fitted with light webbing tie loops and snap closures so it can be used as a tarp or turn it into a makeshift bivvy, pack cover or sleeping bag cover.
Dimensions: 5' x 8'
Length: 8 ft
Width: 5 ft
Weight: 10 oz (280g)
Packed Size: 3" x 6" Silcoat stuff sack
Capacity: 1 person
In the "Quartermaster Catalog" are some single person camo tents with bug netting that also convert to a poncho and hammock. Heavy for a poncho at 2 kg, but rather lightweight as a poncho, tent, and hammock.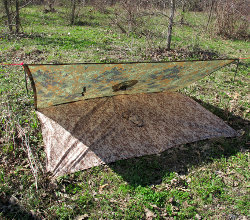 Sleeping Bag
You can get a poncho liner that ties to the grommet holes in your army poncho and converts it into a sleeping bag. You can also tie up two ponchos with two poncho liners to create a warm nest for you and your friend.