Snorkeling Hoods
Hoods are particularly useful for snokeling

as they protect your head and ears from jellyfish and sunburn while floating in the water,

Here are a few points to look out for:
The hood should fit fairly tight so no big airbubbles can form.

Put up the hood first, then put on the mask over your hood. This avoids your hair getting entangled in the strap that keeps the hood in place.

Make sure the mask does not catch the hood or your hair. Keep your hair inside your hood. The hood should wrap around the mask, not get stuck in the mask's seal, as water will leak into your mask.

Tie the hood tightly around your face and mask to keep it from flopping about.

When you dive down head first most surplus air will escape past your waist and legs.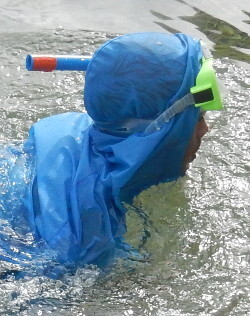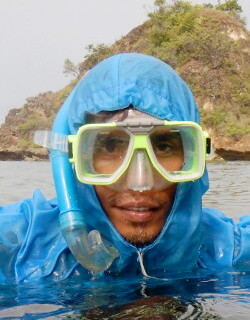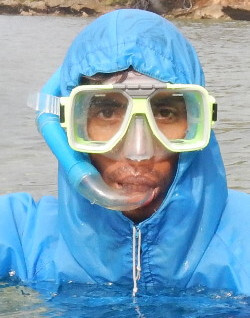 Choose a fairly tight fitting hood. If it is too large it may cover your eyes or flop around. Air pockets can form underwater or water collects in the hood when you swim or come out.
Comfy Snorkeling Suit
For a pleasant snorkeling session your swim clothes have feel good in the water. Soft Nylon or Pertex fabrics feel soft on the skin.
We recommend a comfy suit like this:
Shoes for rocky shores, unless you wear full-foot flippers. Long socks avoid chafing.

Long nylon pants that are closed around the ankles and reach over your socks keep little critters and stingers out.

A swim shirt or tee shirt that is tucked into your pants to reduce sun exposure if the anorak rides up.

Hooded anorak or cagoule in bright visible colours.