Recreational Play Cags
Recreational cags are designed for many water sports and wet activities

, and are fairly inexpensive. Wear them when you paddle around, stop to rest, eat, enjoy the scenery, and go for a swim.

A long sleeve cag provides better protection than sports clothes, as you may be wet for longer. The robust fabric protects you from chafing buoyancy aids, boat and paddles, or any rough bits in the sea you come in contact with.

The design allows for free motion while keeping the wind and cold spray water off your body. The shoulder area is loose fitting to allow for free movement. During a short swim some air may get trapped there which gives you more buoyancy.

The long tapered sleeves hold less water which helps with swimming. Better cags have neoprene cuffs to reduce water flow. Raise your arms to drain any water out.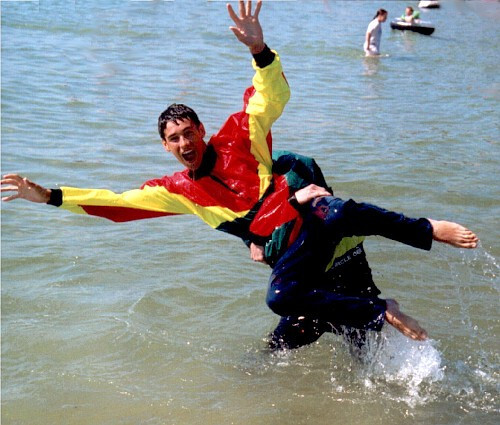 Play Cags in the Pool
Play cags keep you warm in the pool, especially outdoors. The extra drag increases the swimming resistance and gets you fit while you splash around.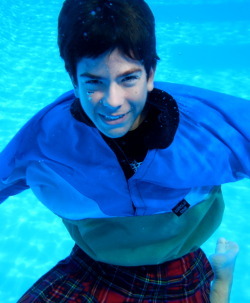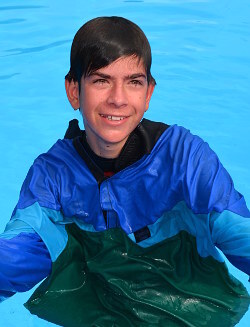 Reader Comments
Wet Adventure Centre
from Kevin, Netherlands
As a present for my 16th birthday I got a week in an adventure centre, with a survival swimming course. I'm a keen swimmer but have never done anything like that and was a bit sceptical. Swimming in clothes seemed weird, but it is something they always do at adventure centres.
On arrival they held an initial briefing about the course and explained some of the theory. We were told about the different survival skills for woodland, lakes, and coastal waters.
Next they talked about the course layout. The first part of this course was held in the pool, later we would go outside into lakes and under waterfalls. Finally they talked about equipment, tools, boats and clothing. It was interesting to learn about the variety of kit and skills needed.
Survival Kit
We were all issued with waterproof cagoules and salopettes, which are long nylon pants, chest high with shoulder straps and a front pocket. We were told to put them on over our clothes and go to the pool hall.
I went to my room, changed into polo shirt and shorts, my jogging suit, socks and clean canvas shoes. Then I carefully put on the waterproof clothes. It all fitted quite well and would probably keep me somewhat dry in the rain. Why we were to meet in the pool hall instead of the rainy outdoors I did not understand.
Into the Swimming Pool
Once we had all gathered at the shallow end, the instructor told us to go into the pool with all our clothes on. WHAT??? That's crazy! I'll drown!
Sceptically I watched how the first few boys went into the water about chest deep, then started swimming. They seemed to enjoy it. When I saw that they didn't drown, I slowly waded into the pool.
It felt kind of weird as the water came into my shoes and up my legs all the way to my chest, soaking my polo shirt and jogging suit inside the waterproof clothes. Not waterproof at all. I leaned forward and began to swim. It was easier than I thought, didn't pull me down.
First Day
This first day was to simulate a day on the water. We all went in and out of the water fully clothed, jumped from the diving boards and climbed into inflatable boats for a long time. I didn't feel cold at all even after several hours. Obviously this wet outfit kept me warm enough.
At lunchtime we had a picnic on the poolside and a little rest. We had to keep our wet clothes on for this, just like on a riverside picnic.
In the afternoon we practised canoeing, capsizing, rope climbing and raft building in the pool, still fully clothed. This was quite tough because we went in and out of the water a lot, and the wet clothes were heavy out of the water.
All Out Action Week
The pool games and outdoor activities for a whole week turned out to be huge fun. I was soaking wet most of the time, with only a few dry spells. Wet clothes actually feel really good. Since this adventure, my friends and I swim in clothes whenever there is an opportunity. Great new hobby.

---
Beach Fun
from Arnie, Brighton, England
Since I was a little kid I always enjoyed playing the water for hours. My parents were smart enough to find warm swim clothes to keep me safe from wind, cold, or sunburn.
My play cags are always part of any water adventures, like canoeing, kayaking, bodysurfing, and open water swimming. I wear my cag over whatever clothes I happen to have on, and jump into the water with my friends.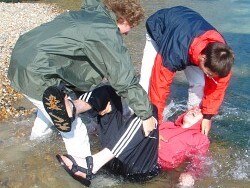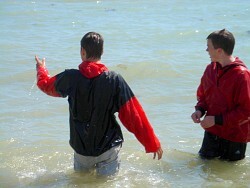 ---
Extreme Weather
from James, Auckland, New Zealand
My love of cagoules came from all the different versions I wore as a kid in Carlisle, New Zealand. Weather here is extreme, so these things do the job and look the bizo. Constant rain, no other choice!
For hiking I prefer rain pants and ponchos. On the beach I enjoy cagoules, anoraks, rain pants and hoodies, for swimming or splashing around.
My parents said I must always wear these clothes in the water to keep warm, avoid sunburn and be visible to other beach users. Over the years I got used to swim in clothes, even in the pool. Never thought that being safe when swimming can feel this good.

---
Swimming
by Alex from Plymouth, England
I bought my first swim cagoules several years back, before they were deemed a little bit trendy once again. I was ridiculed by a few people when swimming in a cagoule, sniggered at in that way which gives you a little smugness inside. You know you're doing something right when following your own path.
Typically later, some of those poking fun were predictably trawling Ebay for cagoules themselves. They then came to pool to look good and colurful in the water.
Now a few friends of mine also started swimming in cagoules to keep fit and warm, but more likely for the fun and feel good factor. We often wear them when we meet in the local pool.