Modest Swim Suit
Anoraks and pants make comfy swimsuits that are quick drying and breathable, but not always waterproof. They are designed to get wet and cope with frequent soakings. That makes them a nice amphibian outfit for playing on the beach and in the water.
In the sea this bathing suit keeps various beasties off you when swimming or snorkeling, and protects you from sunburn. If you carefully choose the right suit for your needs, you can wear it all day long, wet or dry, for any activity from pool training to open water adventures.
Combine different tops and bottoms for a new look every day. This suit packs into a small pocket that you can take anywhere, just in case you fancy a swim or other wet fun in the sun.
Muslim women may enjoy the hooded suits, as they are inexpensive and modest. On some anoraks you can adjust the size of the hood with a toggle on the back, for a better fit. Breathable lightweight hooded sun suits are popular in Asia, where people don't want to get an unfashionable tan.
Drag Suit for Resistance Swim Training
Looking for a great drag suit to add resistance training to your workout or swim meet warm-up? We recommend an unlined anorak with matching pants. It is pleasant to swim in and dries quickly as the fabric holds little water. Extra clothing underneath increases your training effort. Proper fit matters for best results and more fun per hour.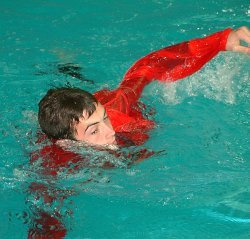 The main fitness benefit comes from a lot of drag due its loose design.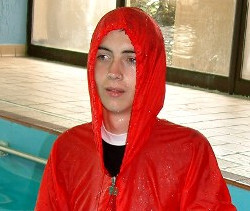 When up, the hood should not obscure your vision. When down, the hood fills with water and adds more weight.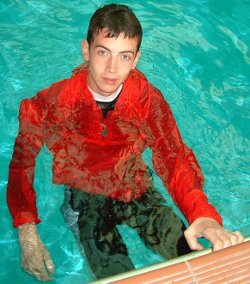 This comfy drag suit will get you fit for fun.
Summary
Advantages we've found while wearing an anorak with matching pants:
Environment friendly sun protection that doesn't wash off in the water
Warmer than a rain cape
Catches less wind
You can wear it all day everywhere.
You can wear it in water when you go swimming.
Better pools allow it as it sheds no fluff to block their filters.
It dries very quickly, even while you wear it.
Nylon or Pertex anoraks have silky soft fabric.
The small front pocket takes keys or money.
Rain pants can be worn with it for better rain protection
You can fold it into the build-in stuff bag and take it anywhere.
Disadvantages

Less ventilation
Fiddly to put on or off compared to rain cape
Makes you sweat all over unless breathable
Suppliers
You can buy anoraks cheaply in the local markets, even second hand. They maybe in the adventure or rainwear section of some shops. Better department stores or sport shops may stock them too. Check out the boating, golf or hiking sections. Costs ca. €20-40.

Anorak Swim Test
by Lee Fung
Can you make a swimsuit out of a low cost anorak and pants? Let's find out.
My task was to find a low cost bathing suit for modest swimmers. It should work well for men and women, dry quickly, look good on land or in the water, and feel comfy in hot weather. In a local shop I found a simple unlined nylon windbreaker and black nylon pants.
Loose fitting hooded bathing suits are better for me than tight fitting lycra suits which may rip when going over rough surfaces. Like any swimwear, I wore this suit without anything underneath. On dry land it felt good while moving around or sitting in the shade. However, one doesn't wear a swimsuit to stay dry, so I went into the lake to get it wet.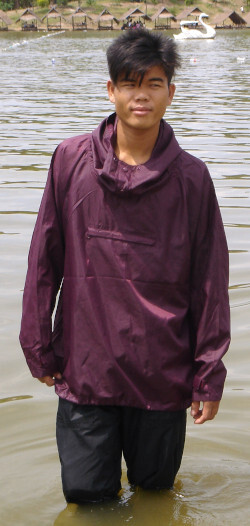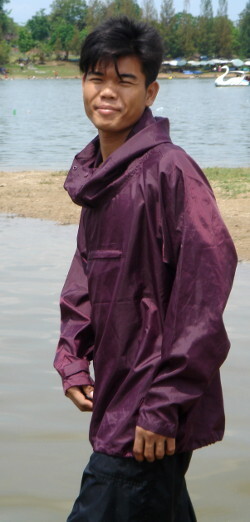 When I went into the lake I was surprised how good this bathing suit felt in the water. Swimming was so easy, it felt really lightweight, like wearing almost nothing. The loose fabric floated around my body without getting in the way. When I came out of the water it dried quickly in the warm breeze.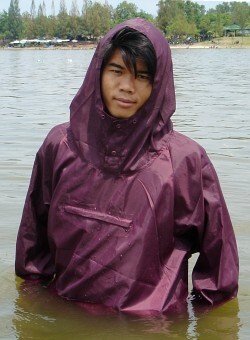 Wading in felt really good.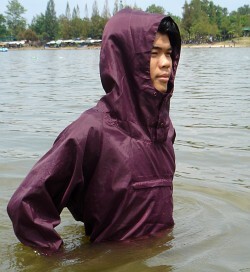 Looking cool in the hood.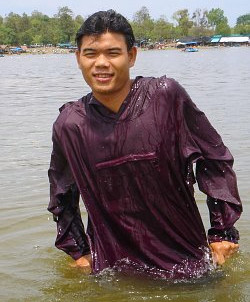 Somehow I appear stronger.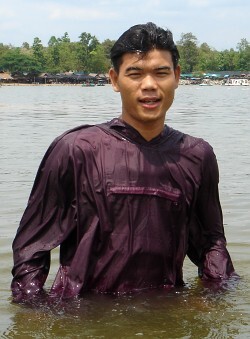 Summary:
This is a really comfy swimsuit for modesty and sun protection
, consisting only of an unlined anorak and pants from the thrift store. It is so lightweight, you barely notice it, except for a sensual touch on your skin when you move around. I bought several of these suits and wear them whenever I go into the water.