Test Review: K-Way Leon Anorak
The original K-Way pullover style anorak has a short zip with less bulk, thus it feels more lightweight in the water. Combined with matching pants you have a quick drying outfit for many water sports.
The front pocket can be used as a carry pouch with a waist belt, useful for keys which can be tied to the waist band inside. This anorak mainly helps you stay warm by avoiding windchill.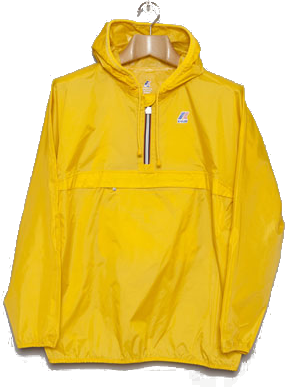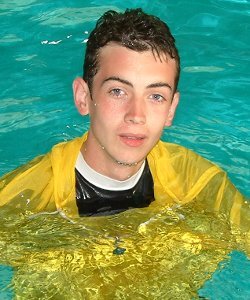 Swimming is easy in this anorak.
Canoeing and Kayaking
The fabric is thinner than the more robust paddling cags. That is fine for leisure canoeing on quiet lakes. It doesn't bulk up and is comfy in the boat and when you go for a swim. You may want to put the hood up so it doesn't catch too much water.
For kayaking let it hang over the spray deck when it rains or you only get sprayed by the waves. The water just runs off your anorak and onto the spray deck.
For bigger waves, rolling, or other frequent immersion techniques, tuck it into your spray deck so it doesn't flap about. A bit of water comes in, but you get soaked anyway whenever you hit the water.

Swimming
For resistance swim training this anorak is a good choice, much more convenient than any of the silly drag suits the swim shops sell.
The uncluttered design to makes swimming easy. It is fun to swim in, feels good in the water, and dries quickly. The hood comes in handy for pools that require swim caps. The front pocket keeps your locker key safe. Add matching pants to make up full swim suit and always keep one or two in your swim bag.

Reader Comments
Looking Good
by Chris, Newquay, England
Great anorak, easily folded away, making it very useful for taking with me all the time. For my various watersports or just around town I enjoy this anorak. It looks good in the mall, on the beach, in the sea or in the pool.
For canoeing, swimming or splashing around this keeps the windchill away. It is lightweight, easy to swim in, and dries so quickly that I can wear it on my way home as well.
The fabric doesn't soak up much water, but a fair bit collects in the sleeves as you swim along, giving you a good workout.
Some say that the fitting is a bit larger than expected on the item description, but I like the lose fitting form for better ventilation. This anorak is amazing.

Since Teenage Years
by Felix, Lugano, Switzerland
My first K-way anorak I got when I was 15 for a school trip. Later I wore it for sailing and canoeing. It didn't take long until I fell into the water wearing my anorak. To my surprise it was easy to swim in, didn't hold much water and dried really fast, so it quickly became part of my regular water clothes.
Since then I've collected quite a few Leon anoraks, the ones with the short zip. They have less bulk than a long zip and a useful front pocket. I usually wear one of my anoraks for watersports and swimming, together with jeans or rain pants. They feel good and protect me from sunburn and wind chill.