Swim Shirts for Sun Protection
There are many names for fairly similar garments: rashie, rashy, rash guard, rash vest, or surf shirt, but they may refer to different uses. We intend to clarify this here.
The advantage of swim shirts versus simply wearing a T-shirt is that they are designed to be worn in the water and don't get heavy or waterlogged. You barely notice a tight fitting swim shirt when swimming. Enjoy the feel of the water flowing through the fabric, a very pleasant experience.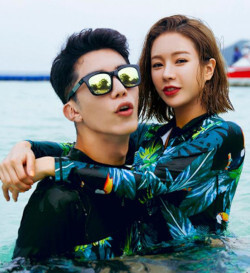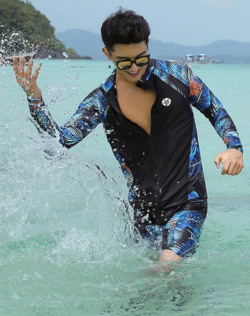 Swim Shirt Fashion
Smart folks do their watersports in style and wear comfy swim shirts in the pool or sea. You can leave your water sport session for a while and head to the beach-side tiki hut for a snack, looking good.
These shirts look just as good out of the water, like in the mall or restaurant, growing rapidly in popularity now, even out of the water. Swim shirts are so comfortable that many people wear them even when they are not swimming outdoors, like in water parks or indoor pools, pool parties, or for other sports. Some kids wear them to school and then swim afterwards without the need to change clothes.
UV Sun Protection
Don't Get Burned! Swim shirts are recommended by the Skin Cancer Foundation and block over 95% of harmful UV rays. Protection lasts all day unlike sunscreens.
Staying safe in the sun is probably the main reason why swim shirt became so popular and fashionable. You can enjoy them for extended periods anywhere you need sun protection or want to look good. On cooler days wear other clothes on top for added warmth, like an anorak or hoodie to reduce windchill.

Beach
While spending the day in the water or on the beach, rash guards protect your skin from chafing and sunburn. These shirts are very comfortable both wet or dry. They are great for working out in the pool or down at the beach.
Surf shirts are light enough to be worn in warm water and offer protection from the effect of the sun's rays, even if you're spending most of your time on the beach or on the boat.
Wear rash guards under bouyancy aids, lifevests, or wetsuits to protect your skin from uncomfortable chafing and skin irritation. Sizes come in small right up to 3XL and 4XL.

Swim Shirts in Pools
Swim shirts are now fashionable even in indoor pools. Even though there is no need for sun protection, swim shirts just look great and feel good in the water. Apparel for long distance swimming will keep you in good comfort with muscle compression.
Aqua Yoga clothing uses fabrics with good stretch ability for easy movement, which will require the fabric to be of a knitted construction.

Drag Shirt for Resistance Swimming
A nylon mesh drag shirt creates a moderate amount of drag when swimming when worn over your swimsuit. This outfit feels great in the pool and is lightweight enough for easy resistance swimming. Afterwards it dries quickly.
Swimming "tea-bag" shirts are usually made in a combination of mesh and polyester fabric. They are typically worn by swimmers as they are quick drying and so are ideal to slip on over a wet swimsuit around the pool.
When you're not in the water you can wear it like a sport shirt. The loose, airy fit is ideal in hot weather. Keep in mind, the mesh fabric has only limited sun protection factor.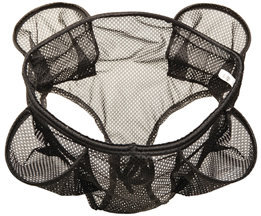 Forget silly drag suits. You can't wear them anywhere in polite society.
A drag shirt looks better, feels better, and gives a better workout.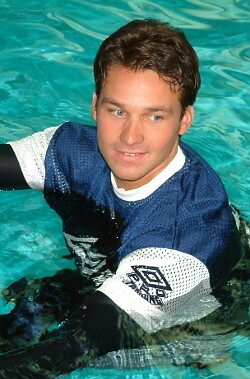 Swim Shirt Care
Ensure that your swim shirt provides you with the best possible performance for a long time to come. We recommend you take the following precautions:
Rinse immediately after use, in non-chlorinated water
Do not leave wet swimsuits in a bag or other container for a long time
Do not expose wet swimsuits to direct sunlight for a long time
Wash with detergents suitable for delicate clothes
Air-dry away from heat sources
Follow the washing instructions given on the product label with useful symbols about how to take best care of it.
Hand wash only
Do not dry clean
Do not bleach
Do not machine dry
Do not iron