Modest Swimwear for Teenagers
Most teenagers enjoy swimming in clothes while they get used to the changes of puberty

, as long as they look cool.

Be safe in the sun, look good on the beach and in the pool in a sun hat and comfy swim kit. Modest swimming clothes for teens should be comfy and not get in the way of of fun or play.

For parents finding the right swimwear for kids and teens is not always easy, considering how choosy they can be. Take them with you to the mall. Let them choose what clothes they like to swim in, try some on and have fun with it. This makes life easier.
Teach Modesty
Encourage your kids to dress in a modest way, introduce them early to wholesome swimwear and practical clothes for many watersports. Besides, learning to swim in clothes is an essential water safety skill. See our Lifesaving website for details.

The Challenge for Swimming Pools
In holiday resorts swimming pools are often outdoors, especially in water based theme parks. The hot sun of holiday countries hits hard on your skin. We've all seen how people, especially children, got sun burned in such places.
Sun tan lotion comes off when you jump into the pool. It also affects the pool filter systems. On busy days in public pools you can see a thin oil slick on the water surface.
The Solution
Modest swimwear not only looks wholesome, but also gives you good sunburn protection which doesn't come off every time you jump into the pool. Swimming pools prefer manmade fibres which don't clog up their filter systems. Some pools allow cotton clothes like T-shirt and jeans, or jogging suits.

Make Your Own Modest Swimwear
Make up your own modest swimming outfit, which might be cheaper than specialized offers. Modest swimwear gives you a chance to express your individuality.
There are many ways you can make your swimwear more fun and exciting. You're not limited to shorts and T-shirt. Be creative and pick from your wardrobe clothes you soon will grow out of. In the water they will widen a bit, so you can wear them for longer as swimwear.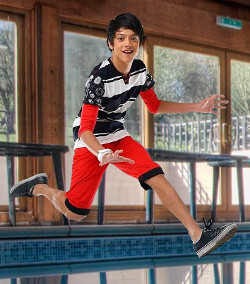 Simple modest swimwear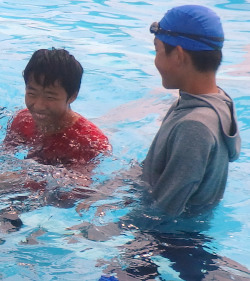 A comfy hoodie and 3/4 length shorts are a good start.
Lycra Swimsuits
The suits look like one piece wetsuits and they are designed to protect from the sun. It's a good solution for kids who want to look a little more modern. Bright colours add visibility.
An alternative to one-piece suits are Lycra shorts or long tights with a swim shirt or rash guard. They are more easy to put on or take off, but can leave the waist exposed to sunburn if they don't fit well. Thumbloops keep the sleeves from riding up.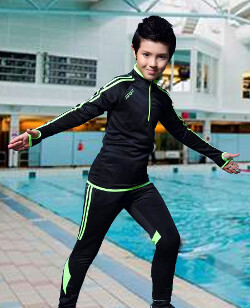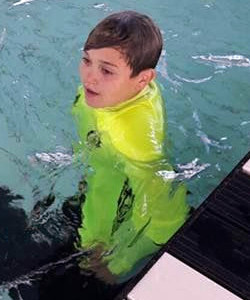 Swim Shirts and Shorts
T-shirts or Lycra swim shirts are the most trendy choice for modesty and sun protection. They feel good to wear on land and in the water.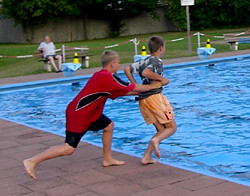 Sports shirts are also a great choice. Make sure they don't chafe or feel rough. Buy only the soft kits and try them first in the bath. If they still chafe, wear a T-shirt underneath.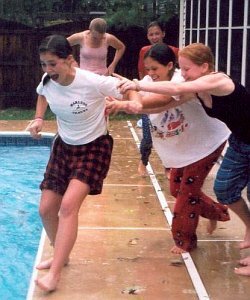 Many girls wear boy's swimming shorts with a T-shirt or tankini top, works fine and costs less.
Jogging Suits and Hoodies
If the pool allows cotton clothes, pick a T-shirt and hooded jogging suit. That's just a blast and super cool fun. When it gets wet it becomes heavy out of the water which feels totally rad. In the water it is very cosy, but will slow you down a bit. It soaks up a lot of water which makes it harder to swim in. Great fun for pool games or strength training.
Clothes tend to widen a little bit in the water so your kids can wear old clothes which they would outgrow soon anyway. This is a very efficient use of old clothes, and cuts spending on swimwear.
Tracksuits
Unlined tracksuits are fun to swim in and have useful pockets for locker key and food money. Many pools allow them if they are made from man-made fibres. Advanced swimming lessons and survival swim classes often require you to wear them in the water.
Tracksuits are popular for adventure sports, worn underneath waterproof clothes as they don't chill you like cotton does. We prefer tops without a zip or only a short zip because they are less bulky. A hood provides good sun protection.

T-shirt and Jeans
Some teens simply wear T-shirt and jeans when splashing around outdoors or in a pool where permitted. It looks good, is comfy and already in their wardrobe. No need to get changed, just jump in and enjoy.
This has been classic swimwear since the mid 19th century when jeans were invented. Wear good fitting jeans with a long T-shirt tucked in. Add a hoodie if you like. This outfit feels good in the water and looks awesome.
This robust swimming clothes for wet and wild games reduce the risk of cuts and bruises and is probably the least expensive option. They are very popular for swimming in Asia where most people don't have special swimwear.
Please note that cotton can get cold quickly when out of the water. It is best for warm climates or indoor venues. Always carry a change of clothes.
Surfer Look
It started the new swimwear fashion way back in he 1960s with more variety. Long sleeve swim shirts with surf shorts or jeans that go below the knees are a good start. Beach pants or kite pants are even better. These clothes are mode for the water and easy to swim in.

Waterwear
Unlined anoraks and cagoules make practical modest swimwear. They don't hold much water and dry quickly. You can go for a swim and shake them dry when you come out. Advanced swimming lessons often use anoraks or cagoules with long pants as outer layer over other clothes, or on their own. They prepare you for outdoor adventures and many watersports.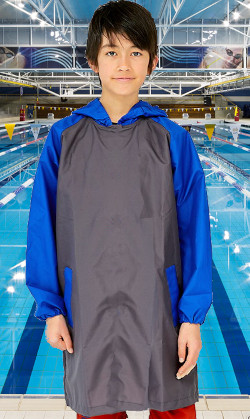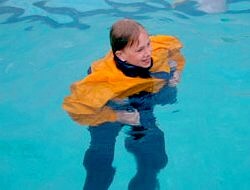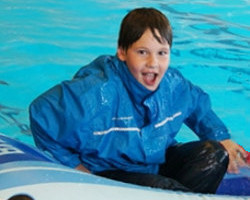 Reader Comments
Wholesome Swimming Lessons
by Andy from Bitburg, Germany
Our church youth group organises modest swimming sessions with the help of the local pool. They let us wear modest swimwear, or whatever clothes we enjoy and feel comfortable with. That's great!
The lifeguards teach us how to swim safely in clothes which is terrific fun. They show us survival swimming using breaststroke, front crawl, sidekick and backstroke.
Often the lifeguards jump into the pool as well in their uniform. Many are members of our church and thus follow a modest dress code.
Every week I always look forward to our fun swimming sessions in wholesome clothes. Thank God we have a pool management that supports us.