Fashion Shirts for Swimming Pools
Cool kids wear a shirt when they go into the pool

. It soon becomes a feel good habit.

Look cool in the pool, on poolside, or at pool parties. Fashion swimwear is more about style than function. Express your individuality in these comfy swimming clothes.

T-shirts are becoming more popular as swimwear, because they feel good in the water and look sexy when wet. Easy to swim in, they form the base layer of your outfit. Make sure thry feel soft in the water, unlike itchy sports shirts. Upgrade to a long sleeve top after a while for more fitness.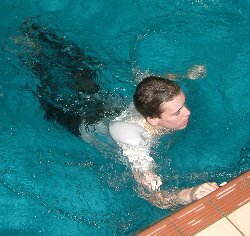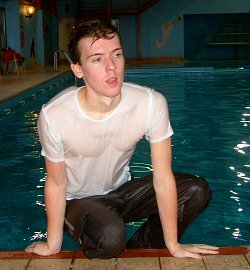 Good Shirt Fit
An ill-fitting shirt can be the ultimate deal breaker in terms of style. On the other hand, a well-fitted shirt will do wonders for your appearance. A good fit means that the shirt should fit snugly around your torso with enough room for air to circulate and be able to flatter your body shape.
Guys with broad shoulders and a narrow waist should always opt for tapered cuts that draw attention to the waist and projects an attractive V-shaped silhouette.
If your shirt appears baggy with the sleeves flopping down and drapes lifelessly over your torso, you know that you have gone up one size too many. Contrarily, if the T-shirt makes your belly and arms ooze out of the tee in weird ways, then it looks like you are trying too hard with a small sized tee.
Pocket tees carry a pocket on the left breast, an interesting addition and when in a complementary color can add a dash of vibrancy to any monotone T-shirt.

Slim Fit T-Shirt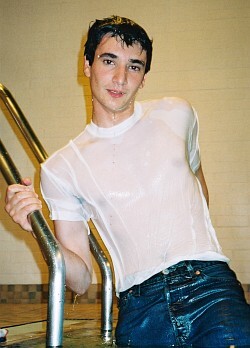 A slim fit tee is also known as a body fit tee because it hugs the shape of your body rather than hanging over it lifelessly. It acts as the perfect undershirt and can be paired with a shirt, jacket or a pullover.
Baggy T-Shirt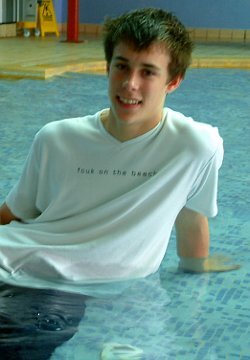 These have made a comeback from the 90's and find a place in an evolved fashionable man's wardrobe along with the slim fits. Note that a baggy fit does not necessarily mean oversized, but rather something wider and loose in the sleeves area.
Muscle Fit T-Shirt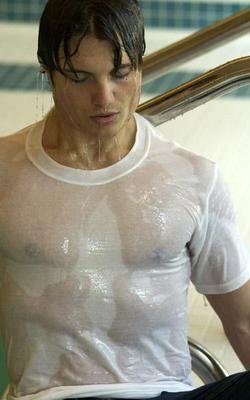 Men with broad shoulders and muscular body types can make the most out of these body-hugging muscle fit tees. Gym bunnies can flaunt their best assets in a muscle tee. Pair it with white chinos, and you are all set.
Shirt and Shorts
The boardshorts-style, loose-fitting shorts with a T-shirt create the laid back surfer style. This is nowadays basic swimwear, especially in holiday resorts. Many public swimming pools allow T-shirts in the water, just ask. Also makes a minimal outfit for beginners to learn swimming in clothes.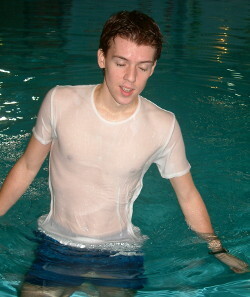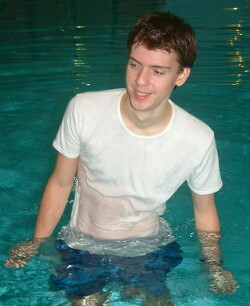 Shirt and Pants
Beach pants with matching T-shirt are versatile clothes you can wear at your local pool or on holiday. They are designed for watersports and thus comfortable both wet and dry.
Made from the same or similar material as surf shorts, they dry quickly so you can wear them all day, in and out of the water. Superb for swim training as they provide moderate drag resistance.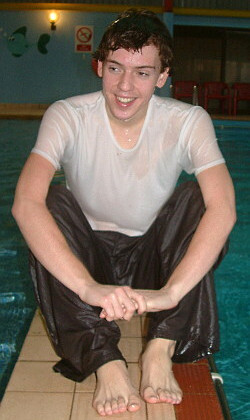 Polo Shirts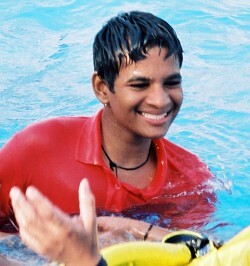 Elegant polo shirts are popular with lifeguards and swimming teachers.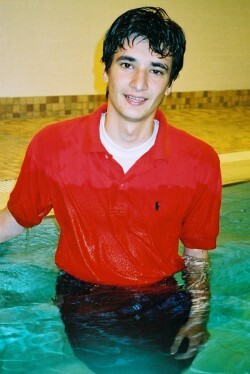 A T-shirt underneath gives more warmth and comfort.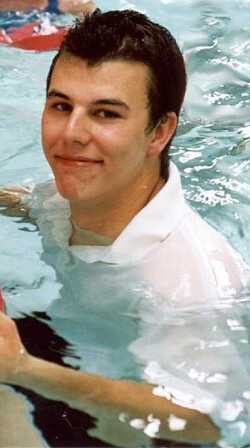 Long Sleeve Swim Shirts
Tee and jeans have been classic swimwear since the 1960s as surf fashion.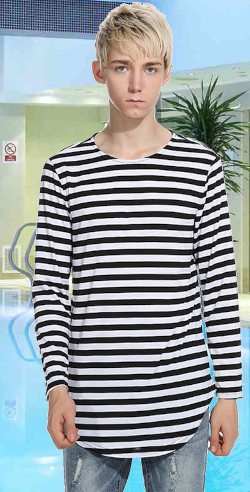 Victorian swim shirt design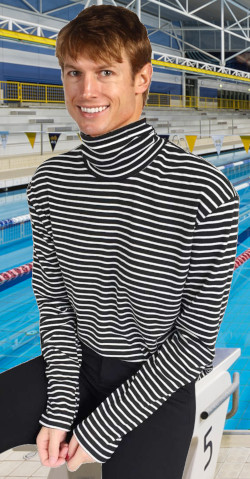 Comfy pool pullover, made from modern swimwear fabrics
Fun Prints
You can have some fun in the pool wearing printed swim shirts with witty lines such as: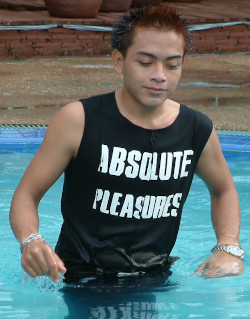 Yes, this IS my bathing suit.
Official Swimming T-Shirt.
I ❤ my swimming tee.
This protects my modesty.