Fashion Jeans Swim Test
Are expensive fashion jeans better than cheap no-brand jeans?
What we've found will amaze you and save you lots of money. We got soaking wet while testing this for you. Read this page to find out more.
Luxury Items
Marketers might deserve a special place in hell for turning blue jeans into a luxury item. But is there any real difference between a $20 pair and a $240 pair?
Our swim team evaluated several men's cotton/spandex jeans in that price range, swimming in one pair of each five times, looking for sewing and fabric flaws, opening stitching at the waist to examine construction, and checking zippers.
Some of the less expensive jeans had better construction features, such as interfacing under the waistband. The two cheapest jeans had stitching under the waistband to limit stretching.
Some midpriced didn't shrink at all. However, they were so "distressed" that you could lose change from a holey back pocket. Useless.
The biggest shrinkers lost about an inch in width on a 34-inch hip and almost an inch in length on a 34-inch inseam.
With the jeans for $240 you get silver bling on back pockets which could damage the pool or slides. For some reason hiding inside a front pocket, there is a nice print fabric for the pocket bags where it can't be seen. Plus a few big white stitches as an accent, and a zipper that won't stay up unless it's locked down.

Swim Test
We've tried these jeans in the water to see if there was any difference. Every team member went for a swim in each of the jeans.
We always start a test in dry clothes to compare proper fit, and also wear socks and canvas shoes to see how the jeans settle on the shoes, both dry and soaking wet.
This took a few days as the jeans had to dry out before the next swimmer could slowly climb into the water. T-shirts also had to dry out before each swim, because they would otherwise soak the jeans before the test. None of us swims topless.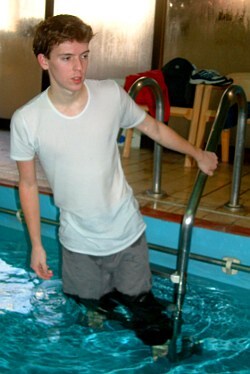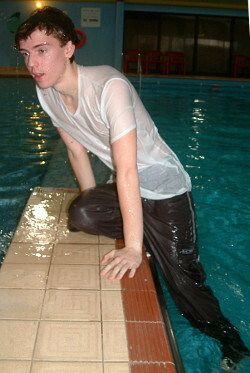 Results
The cheaper jeans somehow fitted better on land and in the water. The waist fitted so well that the T-shirts stayed tucked in even after a few jumps from the diving boards. We feel this important if you want to enjoy swimming in jeans.
The expensive "distressed" jeans almost came apart in the water and we had to get out quickly. Some of the bling came off the other jeans. What a mess!

Bottom Line
You pay a lot for fashion and hidden details, a total waste of money. You don't need any of those fancy extras or the "distressed" look. Ignore "stonewashed" and go for the plain unwashed style. You can do the washing yourself while wearing them, and get a better fit.
For swimming and other wet activities we recommend the cheaper, simpler and more robust jeans, many are big name brands. Spend the money you save on T-shirts and hoodies. That way you get a complete set of swimming clothes for less.