Dungarees / Latzhosen
Comforable jeans with braces, extra pockets, and no tight belt are more practical for many wet activities because they stay in place.
In North America "overall" is more usually understood as a bib-and-brace overall, which is a type of trousers with attached suspenders that keep them in place without the need of a tight belt. It is sometimes referred to as a "pair of overalls" by analogy with "pair of trousers". A hoodie rounds off the look.
The front pocket is useful for keeping small things like cameras while you wear the camera strap around your neck for safety. Beware that things can fall out if you jump about too much. Some dungarees have zipped pockets, like those from Liberty.

Comfy Adventures
Probably one of the most practical adventure outfits. The braces keep your clothes in place without a belt. Your shirt or hoodie won't float up and your dungaree pants won't sag. This is great if you jump in and out of the water a lot.
Denim dungarees aren't waterproof but provide good protection during active watersports like canoeing, wading, and outdoor swimming.
Shortalls
Shortalls (a contraction of the words "short" and "overalls") are overalls adapted so the part of the garment below the waist is shorts. In Skirtalls, the part below the waist is a skirt. In Capri overalls, the legs are capri pants that reach just below the knees. We like them in summer when it's warm outside and long dungarees are too warm. They are easier to swim in, and this makes them popular swimwear with some individualists.
Latzhosen
Latzhosen is the German word for dungarees. They are getting more popular as leisure wear, in particular for wet adventure sports and resistance swimming at aquatic boot camps. More often you see them on lakes or beaches where people wear them for spontaneous swims. Dressed like this you're always ready for fun.

Swimwear
Some of our readers tell us that they use dungarees as resistance swimwear for a more intense training. They distribute the weight and drag more evenly than ankle weights or similar stuff that the swimwear industry provides.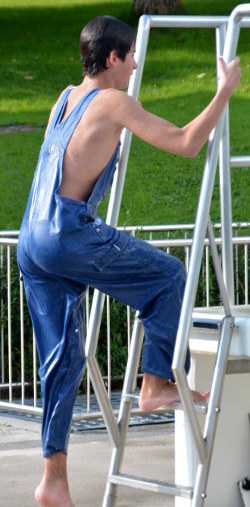 Braces can cause chafing if worn directly on the skin.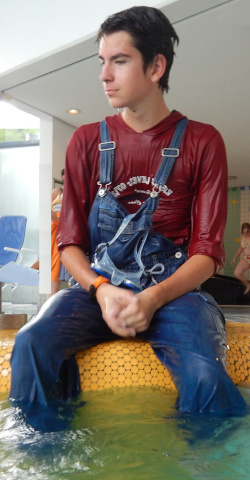 Combined with a matching swim shirt, anorak or cagoule, dungarees feel pleasant in the water.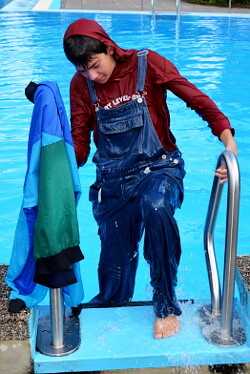 Tough swim training clothes with two pieces only:
Dungaree and Hoodie make an unusual but comfy swimsuit without a tight waistband.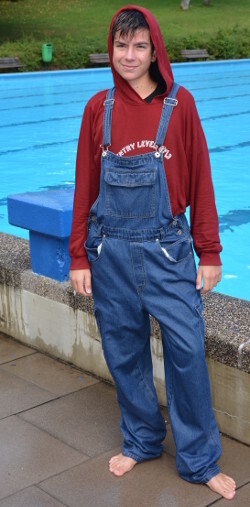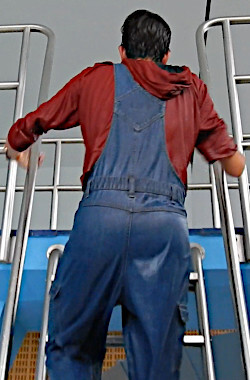 Smart pool divers wear these outfits to avoid painful touchdowns when practicing new dive moves.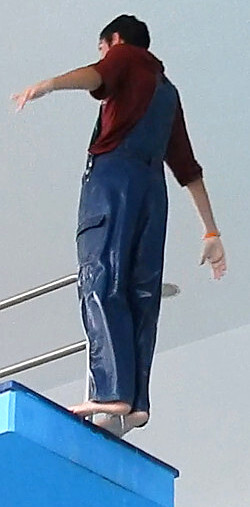 Reader Comment: Latzhosen
by Kevin from Munich, Germany
I joined the DLRG (German Lifeguards) course for rescue swimming, so we had to swim 400m with jacket and dungarees and then take them off in the water. It is quite exhausting but also really fun.
I think it's cool to bathe with dungarees and hoodie, it's totally nice and practical because they don't slide down, and are comfortable when swimming. I also like to put on my dungarees and then go under the shower. An awesome feeling when they get completely wet and stick to the skin.
Original Text
Ich hab da bei der DLRG so einen Kurs mitgemacht für Rettungsschwimmen, da mussten wir 400m mit Jacke und Latzhose schwimmen und dann im Wasser ausziehen. Ist ganz schön anstrengend, aber macht auch echt Spass.
Ich finde es cool mit Latzjeanshosen und Hoodie zu baden, ist total schön und praktisch, weil die nicht rutschten und bequem sind beim schwimmen. Ziehe auch gerne mal meine Latzhose an und stelle mich dann unter die Dusche. Ein geiles Gefühl wenn Sie dann komplett nass ist und an der Haut haftet.