Hoodies in High School
by Aiden and Friends
Hoodies are my favourite swimwear. I used to wear them all the time back in high school. They were something I couldn't live without. I often wear hoodies for swimming in the pool and going to the beach.
Hooded sweatshirts and jeans seem to be the ultimate teenage staple these days. They have been officially deemed acceptable, even for swimming. There is no need to get changed on the beach and leave your kit behind. Just walk in as you are an enjoy.
Bright Colours
When I was a teenager, my friends and I often went to one specific department store just for a special brand of plain hooded sweatshirts we preferred for swimming.
The beach lifeguards said that we should be visible when we swim in the sea. So we picked hoodies in red, orange and yellow for fun on the beach.
When we wanted to go swimming after school, we wore one of these hoodies in the morning, so our friends knew what was up.
Swimming after School
After school we often went swimming in the clothes we had on all day. We left our bags in the school lockers and ran down to the beach to go swimming. We didn't bother with swim shorts, but jumped into the water in our jeans and hoodies. This was way cool in our school, and soon more kids jumped in with their clothes on.
Wading in slowly was the real kicker for me. Watching how the jeans and then the hoodie got wet, feeling the water creep up inside, was way cool.
After our swim we headed back to the school's sports complex for a hot shower to rinse our clothes, changed into dry sports kit and headed home. Great fun.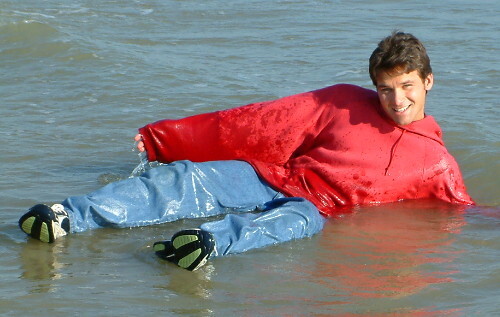 Fashion
I've often thought about why so many kids wear hoodies, sometimes also for swimming. Even in rain and snow you are more more likely to see a teenager donning a hoodie as opposed to a rain coat. Why is that? What is it about hoodies that teenagers love so much? Is there something wrong with real coats and hats?
I've come up with two reasons why I think hooded sweatshirts are so prevalent among teenagers as opposed to things like rain coats and hats.
If there's one thing you care about during your teenage years it's fitting in. Buying or wearing a coat brings in so many different variables. What style? What length? What fit? What material?
Hoodies come mainly in cotton, as pullover or zippered. Sure they can have various decorations on them but all in all they are relatively uniform.
The other reason is that they feel so soft and cosy, even when wet. So for some they are the best clothes for fun on the beach and swimming.

Reader Story
by Ooli, Brighton, England
Way back in high school we often went swimming after lessons. Most days I just watched them from the beach. The sea is too cold for me to swim only in shorts.
Some of my high school friends talked me into swimming with tee shirt, jeans and hoodie to stay warm. First I thought it was a prank, but when I saw them swimming in clothes, I gave it a try and realised that clothes keep me much warmer, even in the water. It is also quite good fun and feels good, which is probably the main reason my friends swim fully clothed.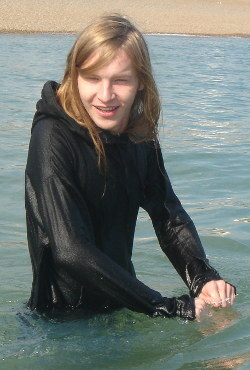 Sea is quite cold.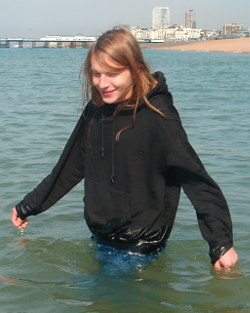 Swiming in warm clothes takes more effort, but keeps me much warmer in the water.