Outdoor Adventure Kit Tests
by Pierre, Adventure Kit Reviewer
The editorial team asked me to test a few wet weather outfits and give my comments.
I'm a keen swimmer and experienced adventurer, so the team often ask me to do the clothing tests, which often involve repeated soakings over a length of time.
It is important you test your adventure kit before you head out to see if it works as expected. On this page you'll find a few ways you can test your own kit. Wear some thin cotton clothes underneath to detect leaks more easily as dark spots.
Before I did my first real test, they played a funny prank on me. Most new interns endure or enjoy this prank when they join. I found it to be a good fun surprise.

Cycling Cape Prank
When I first started reviews for this website, the team asked me to test a hiking poncho for cycling, wearing dry clothes underneath. I'm keen on cycling in the rain, but hiking ponchos are not usually worn for cycling, so this was interesting. I kept the hood down because the weather was hot, even though I knew a little water may leak in.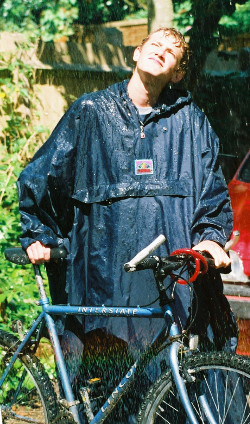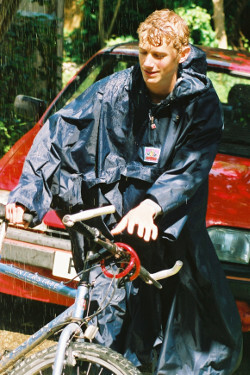 The sprinkler simulated consistent rainfall.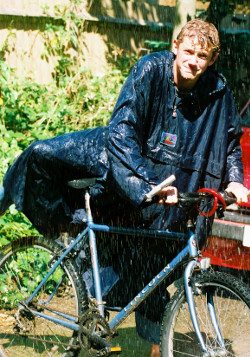 I got on the bike while the rain quickly soaked the poncho as expected.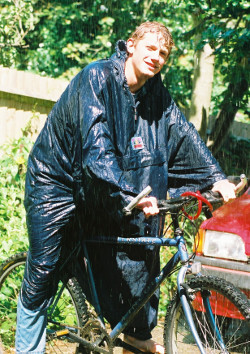 Soon I realised the poncho was leaking all over.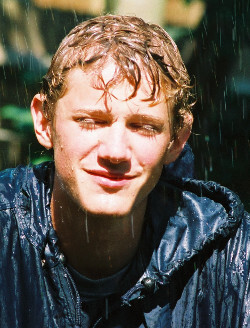 It was no longer waterproof and I got quickly soaked to the skin, jeans and sweatshirt, and all.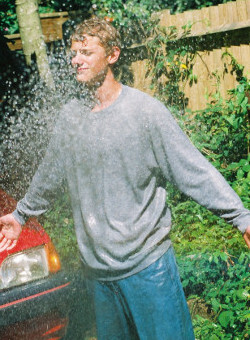 My clothes were dripping wet from that prank. Haha, very funny.
Hiking Rain Cape
Rain capes and ponchos are essential for many wet adventure sports. They keep you warm, but not always dry. Our team asked me to find out how wet one can get in a hiking cape. This one was lightweight, very large, with good cover. I wore it over rain pants and a swim shirt, a light and comfy outfit I wear a lot, even indoors or for swimming.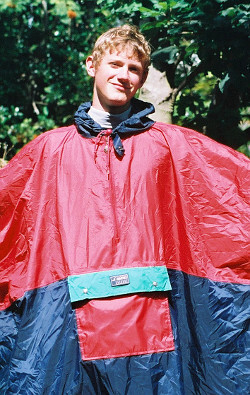 Here I am still dry and cosy.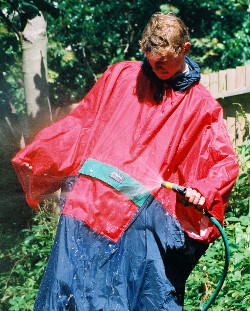 Started spraying from the bottom, like when hiking through wet vegetation (Hiker Wash). Still dry except for my feet.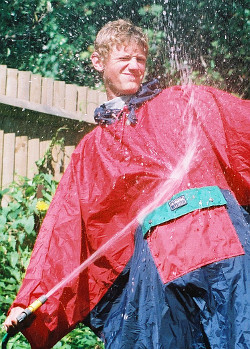 Moving up to the top, like when rain or spray hits you. Here most kit starts to leak and you get wet. I was still mostly dry.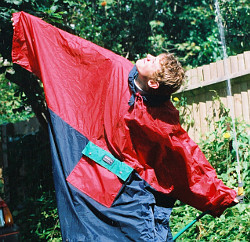 Simulating rainfall with the hose pipe was fun. You can see how large this cape is.
Because I had the hood down, water came in and my clothes inside got a bit wet.
This was to be expected as the rain runs off your head and right into your collar.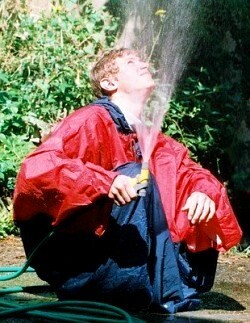 Sitting down in the rain was so relaxing. The drops hit the wet nylon cape and ran off.
After half an hour I was soaked through to the skin from sweat and water, but this hiking cape felt very cosy.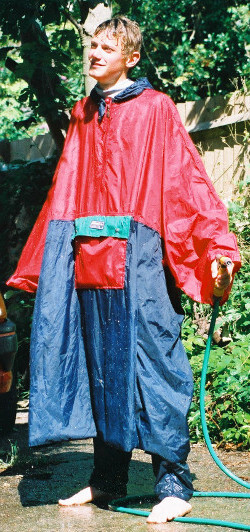 Hiking Cape Hood
In the previous test I got soaked through the neck opening, because I had the hood down. Now let's see what happens when the hood is up. I wore dry clothes underneath.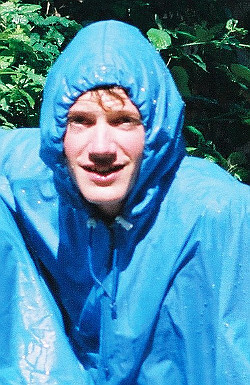 Here I am still dry inside.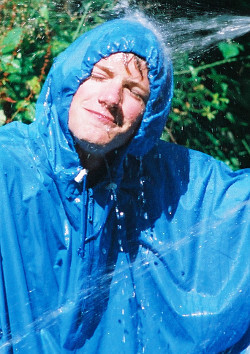 Water from above. Not much comes into the face opening.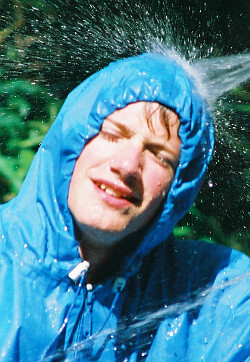 More water from above, but the hood holds up well.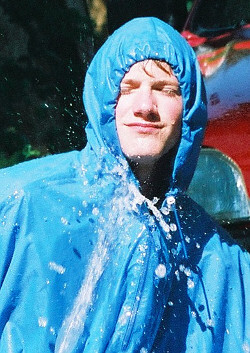 Water spray from below comes in through the collar and soaks my dry clothes a little bit.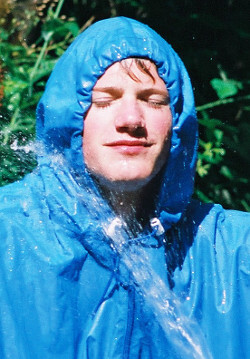 As more water flushes into the collar, my clothes get wet, but the cape keeps me warm.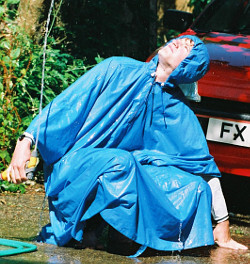 Summary:
The hood keeps you dryer. Some water comes in, but not as much.
Get used to wearing a hood. You'll get wet slowly, mostly from sweat.
Cotton Clothes
Tough cotton clothes are great for wet adventure training, like running in the rain or resistance swimming. They soak up more water than sportswear and get heavy to make your workout harder. Our team dared me to get my jeans and sweatshirt wet before they threw me into the pool fully clothed.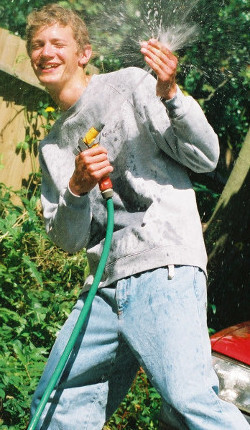 Getting clothes wet for our readers? I can do that all day long. Easy! Now, where do I start?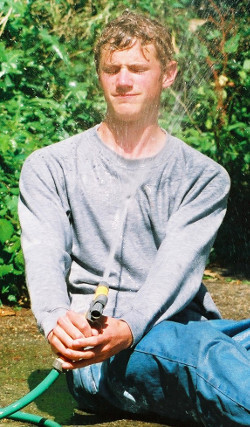 Got the jeans wet, then the top. This took a while as the clothes soak up a lot of water.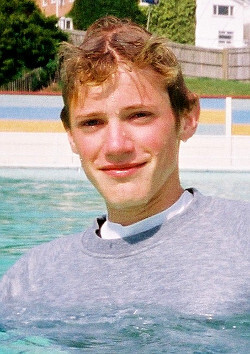 With the help from the team these cotton clothes got all soaked. Then they threw me into the pool fully clothed. Hey, this is fun. This outfit feels great in the water.