Tracksuit Test Review
We've tried tracksuits from Nike and Umbro before and found them all quite comfortable as modest swim suits, both on land and in the water.
The classic Adidas tracksuit, available for both men and women, makes a stylish matching outfit for friends and couples. Hooded tops are an option, especially for modest women.
Fit and Features
This suit fits quite well, yet leaves enough room to move. The bottoms have a draw string to stop them from sliding down, an important feature for fun action sports.
The Adidas suit has two pockets in the jacket and two in the bottoms. They can be zipped up so that your money and locker key don't end up in the pool.
The manmade fabric is fairly robust. It sheds no fluff, so it is harmless to pool filters. It doesn't hold much water and dries fairly quickly.
Relax a few minutes after your swim, then look cool at the pool bar. The shiny appearance looks similar when dry or wet, which makes it is great for use in and around swimming pools in holiday resorts.
Tracksuit Dry Test
We tried it for canyoning in Thailand. In the hot weather this suit was comfortable. Occasionally we sprinkled some water over it to keep it cool. Altogether the fabric coped quite well with all the action and only got a small hole when one of us slipped four meters down a waterfall into a rock pool.
Tracksuit Swim Test
We wore the unlined Adidas tracksuit in the swimming pool for survival swim training. It feels comfortable in the water, and keeps its good looking shape, even when wet. Water runs off quicky when you leave the pool.
Swimming in this tracksuit is quite easy. It creates a moderate amount of drag so we can recommend it for resistance swimming and lifesaving classes.
We asked a few people to wear this tracksuit during their water sports. They've found it easy and fun to wear both in open water or in the swimming pool.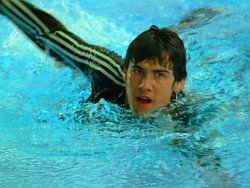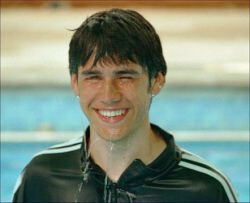 Summary
If you're looking for a modest swimsuit that can also be used for other sports and leisure activities, then consider a tracksuit like this. It is lightweight, quick drying, and versatile, especially on your holidays.